After the 2012 NFL season, it seemed like Trent Richardson was destined to be a fantasy football mainstay for years to come. Now, before the start of the 2015 season, Richardson has been cut by the Oakland Raiders and is a free agent for the moment. There is always a need for talented players, the question is does Richardson fit the bill?
Making a case for a team to pick up T-Rich might not be as simple as it once was. After putting up 950 rushing yards and 11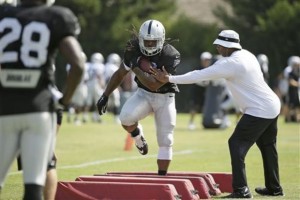 touchdowns as a rookie most teams would have jumped at the chance to add him to their roster. The Colts did just that in 2013, trading away a first round pick for the well known running back. In return, they got a plodding runner who would lose his job to career backup Donald Brown.
Richardson has on occasion showcased a tantalizing mix of power and speed, but he never seems to put it together consistently. The argument could be made that he was running behind a bad line in Cleveland, where he averaged 3.6 yards per carry. The Colts should have offered better results, but Richardson still never found any room to run as his YPC fell to a deplorable 2.9. This was a Richardson problem, not a line problem as Brown showed with his 5.3 YPC.
More recent news: Martavis Bryant Suspension Fallout
There is some hope for Richardson, as there are NFL teams looking for help at the running back position. The most conspicuous opening would be the Dallas Cowboys, who have a tremendous line and a recent history of success running the ball. It is hard to say whether or not Dallas would be interested in giving Richardson a try given his long string of failures but it would be the perfect storm to create some fantasy buzz.
The Cardinals are another team that could take a look at Richardson. They are obviously not feeling great about their stable or running backs, based on the fact that they dragged Chris Johnson off the street. Since Johnson and rookie David Johnson have both been dinged up throughout the preseason, it might make sense to get a fresh body into camp. Of course, newly available Fred Jackson may be more appealing despite his advanced age.
It could make sense for Houston to bring in Richardson as well. He could make a serviceable short term replacement for Arian Foster and he would have the chance to show the Colts that they made a mistake (not likely). This is probably the least likely scenario as the Texans seem content with the corps of backs that they have available to them. It isn't like the injury to Foster derailed a potential playoff season.
It seems likely that Richardson will get a shot as a backup somewhere. Since this is the NFL, a backup can become a starter with one unfortunate play so there is a chance that he will have value someday. Right now my money is on a stint with the Cowboys, but only time will tell. If Dallas does bring him into the fold, I would say that Richardson is worth a speculative add in very deep leagues. At the very least that would warrant a watch list spot. I have low expectations for him, but running backs come out of nowhere every season.