The fantasy football regular season is nearing a conclusion already. It feels like just yesterday that I was hyping Terrelle Pryor and now he is almost done publicly shaming me for a whole season. If you made a bad call or two yourself, streaming a position can bail you out. Here are some solid picks to stream at kicker, D/ST and quarterback.
Patrick Murray TB
The offense in Tampa has not been consistent this season, with or without Jameis Winston. One player that has been consistent lately is the kicker, Patrick Murray. He is averaging 8.6 fantasy points per game over the last 5 games. In 3 of those games he has scored double digit points. In week 12 the Bucs have a divisional matchup with Atlanta and the kicks should be flying. The little owned Murray makes a nice addition to lineups for week 12.
Brandon McManus DEN
When Brock Osweiler is the quarterback of your team, the end zone is a foreign concept. There are a few occasions when Osweiler can hold of on turning the ball over long enough to get in field goal range, though. The Raiders defense is not exactly adept at holding opposing offenses in check. This could be the perfect storm of a defense that can't hold and a QB that can't score. It all adds up to lots of chances for Brandon McManus. He has managed double digit fantasy points in four out of five games where he has had at least three field goal attempts. The odds certainly favor Denver putting up some kicker points in this contest.
D/ST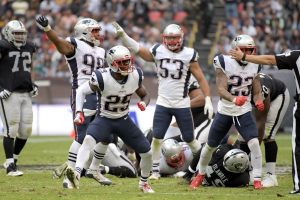 New England Patriots
Don't look now, but the Pats defense is streaking. This is more than a streaming pick, this is a top rest of season pick. Since week 6, the Patriots have scored 7 or more fantasy points in every game. Their upcoming schedule features and outlandishly easy slate featuring Miami twice and Buffalo twice. That should equal about 30 or so interceptions by my math. That is probably a bit overboard, but this could be a top 3 defense over the rest of the season. Except for that pesky matchup with the Steelers of course; avoid the Steelers game.
Cleveland Browns
The Browns are playing the Bengals and I would recommend Cincy's defense if you can get it. They are a bit more widely owned right now due to playing Osweiler and the Broncos last week. Should the Bengals be taken, grab their opponents in Cleveland. The Browns are lights out again the run, which will force Andy Dalton into action. Any time you can face Dalton when he is forced to throw, points are on the way. He has one of the best receivers in the league, but he also has a penchant for costly mistakes. Grab the Cleveland defense for week 12 and silence the laughter with a top-10 performance.
Quarterback
Blake Bortles JAC
The game plan for Jacksonville in week 11 was to pound Leonard Fournette. That was fine in a bad weather game in Cleveland, where the opponent could not keep up. The Cardinals are slightly different. They do not have a great quarterback, but they do have a hall of fame caliber receiver with nice complementary pieces. This game will take place in the desert, where the weather will allow for more passing. Look for Bortles to need to throw and more importantly, be able to. The Cardinals aren't stopping any opposing passers and this should be no different. The Jaguars will look to solidify their shot at a division title with a win over the Cardinals in week 12.
Tyrod Taylor BUF
If Coach McDermott has a bit of sense, he will start Taylor at QB in week 12. Nathan Peterman was drastically overmatched by NFL competition, throwing 5 picks in the first half of his first game. The Bills offense is a full rebuild, but Taylor can at least keep them competitive in most games. He is not going to make his receivers look good, but Taylor's individual numbers are good enough for a fantasy start. There is a good chance that he tops 20 fantasy points against a subpar KC pass defense.
Make sure to check back tomorrow for the full slate of waiver wire picks. If you missed it, check out the bold predictions for week 11 as well. For some extras, follow us on Twitter: @_knuckleheads, @BrendanCole16, and @JakeTrowbridge.