We're headed into week 13 and that means the end of the regular season in many leagues. Odds are your team has taken shape, but the week 13 streaming picks can help fill in the blanks. For a replacement kicker, defense, or quarterback we've got what you need.
See How Our Bold Predictions For Week 12 Turned Out
Kicker
Josh Lambo JAC
Good offensive performances have not been the hallmark of the 2017 Jaguars. The team thrives on strong defense, but they have playmakers. The ball gets down the field often enough to at least allow for some field goals. Lambo has scored 7 or more points in four out of five games for Jacksonville. I see no reason that he should not be at least in that neighborhood again versus a bad Colts defense. It looks like Lambo should be a top-5 kicker in week 13.
Aldrick Rosas NYG
The Giants offense has been spinning it's wheels the last couple of weeks. They should have Sterling Shepard back for week 13 and they have a nice matchup. The Raiders cannot stop anyone and even the Giants should prove to be no exception. Orleans Darkwa is running hard and Shepard along with Evan Engram gives Manning multiple targets. There is reason to believe that Rosas should have several chances to put up points.
D/ST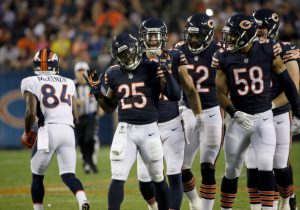 Chicago Bears
It has been an up and down season for the Bears defense. Their outcomes have ranged all the way from 24 fantasy points versus the Panthers to -5 against the Packers. This week should be trending toward the higher end of that spectrum. The 49ers offense is having a hard time this year and they are the 8th best matchup for opposing defenses. They feature a mistake prone young quarterback with no good receiving options. Dial up the bears and lock up your playoff seeding.
Tampa Bay Buccaneers
It was a rough week 12 for the Bucs as Matt Ryan remembered that Julio Jones is good at football. Not to worry though, Brett Hundley is no Matt Ryan. Despite a nice performance last week, Hundley is still a virtual lock for multiple turnovers. Tampa has an opportunistic defense and their aggression should pay off in this one. The Bucs are a good bet to grab double digit fantasy points heading into week 13.
Quarterback
Mitchell Trubisky CHI
There have been some bright spots for the Bears number one draft pick. Week 12 was not one of those, but that has been the case for a lot of quarterbacks facing the Eagles. The matchup going into week 13 is much friendlier as the 49ers come to town. Nothing helps a quarterback get back on track faster than facing one of the worst defenses in the league. The number here should be more like what Trubisky did against the Packers and Lions. Somewhere in the neighborhood of 16-20 fantasy points sounds about right to me.
Eli Manning NYG
Look out, hot take here! Just kidding, this one is not as crazy as it seems on the surface. The Giants and Eli have been ugly for a couple of weeks and it is clear why. Sterling Shepard has been on the sideline. The last time that Shepard suited up was week 10 at San Francisco and Eli put up just under 20 fantasy points. With the young receiver likely to return from his migraine-induced absence, a matchup with the Raiders is looking exploitable. It won't feel good to put Eli in your lineup, but trust me, it's going to be alright for week 13.
Be sure to check back tomorrow for our waiver wire picks. Also, don't miss a special feature highlighting the players with the friendliest rest of season/playoff schedules. This one could be the difference between winning and losing your league! For some extras, follow us on Twitter: @_knuckleheads, @BrendanCole16, and @JakeTrowbridge.