The regular season is almost done for the NFL and playoffs are wrapping up in fantasy. Week 16 is the final game for the vast majority of leagues, so it's time to get that title. My guess is that most teams in the finals are streaming at kicker and/or defense. If you need to know the best choice there or need a quarterback, we've got you covered in the streaming picks.
Kicker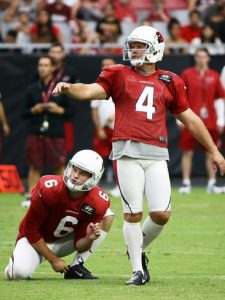 Phil Dawson ARI
The Cardinals' kicker is criminally underowned and has a nice matchup for championship week. Dawson has scored 13 or more points in three of the past four weeks. That includes 17 points versus the formidable Jaguars defense. A game against the Giants should be a cakewalk for the veteran. He is available in almost every league (6% owned) and could be the difference between winning and going home in week 16.
Brandon McManus DEN
The end of season matchups for the Broncos have featured some easy opponents. That does not necessarily translate to wins, but the offense is a better bet than they have been. The Redskins have been a great matchup for opposing kickers. They are allowing almost two full points over the league average. Even if Brock Osweiler cannot recapture the magic of last week, Denver should move well enough to allow a few field goal chances.
D/ST
Chicago Bears
The Bears have been a solid, if unspectacular, defense this season. There have been few times that they were not startable, but they have only topped 11 point one time. The Browns were looking like a offense on the rise until they faced Baltimore. There are still far too many mistakes being made by Deshone Kizer. It looks like Cleveland has still not found their quarterback. Turnovers should be easy to come by in this one and the Bears will be right around 10-12 fantasy points.
Arizona Cardinals
It has been a well known fact that the Cardinals cannot defend the pass. In spite of a good game for Sterling Shepard, the Giants offense cannot exploit weaknesses. Without a doubt, New York will try to throw on the Cardinals. They will likely rack up moderate totals, but also turn over the football. I would be surprised if the Giants score more than 14 in this one. The Cardinals are a solid bet for double digit fantasy points facing a team in turmoil.
Check Out Last Week's Streaming Picks
Quarterback
Tyrod Taylor BUF
Once an underpriced starting option, Tyrod Taylor has made his way to the ranks of streamers. Insane personnel moves by the Bills coupled with injury have kept Taylor from being a weekly starter. For championship week, Tyrod could be just what the doctor ordered though. He has a matchup with the Patriots and that means good things for fantasy. New England improved their defense over the course of the season. They still allow a lot of yardage, however. Between his arm and his legs, Taylor is going to do enough to put up a nice fantasy stat line in week 16.
Joe Flacco BAL
What can I say, I've tasted Jacob Trowbridge's Baltimore Kool-aid again. Flacco has gone whacko for the last three weeks with positive matchups. He has posted point totals of 21, 19, and 24. Those are the numbers of a starter and he should be played as such. Things keep getting better for the veteran as the Ravens take on the Colts in week 16. There should be few challenges for the offense as they take on a listless team with no playoff hopes. I feel bile rising in my throat as I type this, but stream Joe Flacco for the championship game.
Check back tomorrow for waiver wire picks from Eric Clark. Later in the week we'll have Jacob Trowbridge's sleeper picks and of course my high upside players. For extras, check us out on Twitter: @_knuckleheads, @BrendanCole16, @JakeTrowbridge, and @UndisputedLogic.