Most fantasy leagues have already wrapped up for the season. There are a few intrepid owners that dare to brave the cesspool of week 17 however. If your league has a two week finale or just a week 17 championship these picks are for you. This special week 17 streaming plays features a pick from every position.
Quarterback
Jacoby Brissett IND
It has been quite the rough patch for Brissett since the Colts bye week. He has had two games in single digit fantasy points and has not topped 15 in a game. That is in large part due to the level of competition faced. Among others, Brissett has had to face Jacksonville, Denver and Baltimore. Of course his stats have suffered. Never fear, however, help is on the way. In week 17 the Colts finish up their disappointing season against the equally disappointing Texans defense. Everyone is throwing on Houston and that will continue with the Colts young quarterback. Brissett is good for over 20 fantasy points this week, lock it up.
Running Back
Javorius Allen BAL
Right now, Allen is not even the top back on his own team. At the same time, he has been the most productive back lately on a per touch basis. He came up big in week 14, scoring twice on Pittsburgh. Following that there were more touches given to Allen in week 15 at Cleveland. Last week the workload was scaled back, but he still averaged 4.6 yards per carry on his limited touches.
Now the Ravens face Cincinnati and their struggling rush defense. The Ravens should be able to seize control early, meaning more carries for Alex Collins and Allen. Things are ugly in Cincinnati and this game is setting up for the Ravens to run on them all day. Allen is a cheap, little owned commodity that will come up big in the final week of the season.
Wide Receiver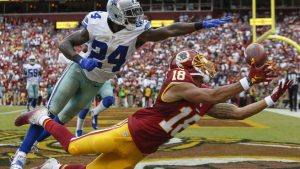 Josh Doctson WAS
It has not been a lost season for Doctson, but he has not been as productive as many expected. The second year man has faced a steep learning curve and some of the best corners in the league. None of that will be a factor in week 17 as the Redskins face the Giants minus Janoris Jenkins.
With their top corner, the Giants are not very good. Without him they are a dumpster fire of unrelenting awfulness. This may well be the week that Doctson finally has the breakout game that fans have been waiting for. It is unfortunate that it is also the last game of the season, but better late than never.
Tight End
Charles Clay BUF
There is a chance that the Bills could earn their first playoff berth in 18 years this week. Every player on the team is going to be desperate for a win; big time efforts on the way. Whenever the two are on the field together, Tyrod Taylor looks for Charles Clay. This week should be no exception as Clay put up nice numbers against Miami two weeks ago.
In the rematch, Clay is going to look to top his 5 catch 68 yards performance. I he can manage that and maybe throw in a score, it would be a solid TE1 performance. That is what I will be banking on from Clay I week 17.
D/ST
Buffalo Bills
For some of the same reason mentioned above, I'm rolling the dice with the Bills defense. This team is hell bent on getting into the playoffs and the Dolphins should not make a win difficult. Their offense is one of the worst in the league and they show it weekly. When the Bills and Dolphins met in week 15, Jay Cutler threw three picks on the way to a double digit showing for the Bills defense. Look for another 10-12 points out of Buffalo in the final week of the season.
Kicker
Josh Lambo JAC
The Jaguars have been on a roll this season and so was Lambo, until last week. He had scored 7 or more fantasy points in five straight games heading into week 16. The 49ers have been a sneaky good defense to end the season. The same cannot be said for the Titans, who will be the week 17 opponent. There should be plenty of chances for Jacksonville to score in this game. That will mean plentiful field goals and extra points for Lambo.
Good luck to those of you that are still active in week 17.
Check out our rankings and the rest of our exclusive content at FantasyKnuckleheads. Follow us on Twitter for extras: @_Knuckleheads and @BrendanCole16.