Football and fantasy football are both a war of attrition. As the injury list gets longer, strategy and research begin to become more important for managers. Going into week 3 there are some injury concerns and some performance issues hovering around some of the premier names. Be sure to look at the injury concerns and then dive in and see which running backs should be relied on in week 3. I've only listed the injuries that may make players miss time or those that appeared to hamper them in week 2.
Injury Concerns:
Andre Ellington ARI Questionable, Tevin Coleman ATL Out, Eddie Lacy GB Questionable, Arian Foster HOU Day To Day, Lamar Miller MIA Questionable, C.J. Spiller NO Probable, Carlos Hyde SF Questionable, Todd Gurley STL Questionable, Tre Mason STL Probable DeMarco Murray PHI - OUT
*Ryan Mathews Starting Today, RB2.*
Note-Arian Foster is unranked, but he is a top-10 play if he suits up.
The Complete Week 3 Injury Report
Elite Tier - Must Starts
1. Le'Veon Bell  PIT @STL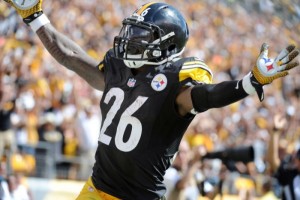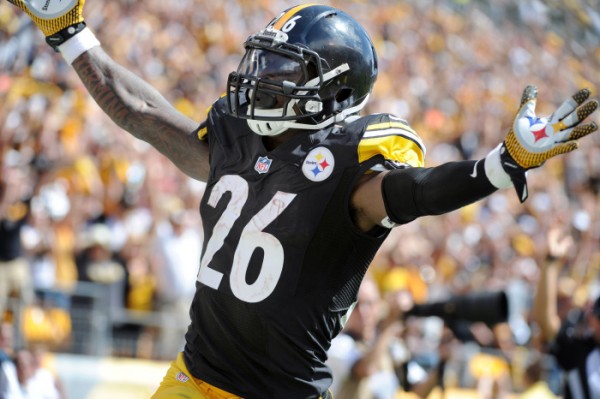 2. Jamaal Charles  KC @GB
3. Marshawn Lynch  SEA vs. CHI
4. LeSean McCoy  BUF @MIA
5. Adrian Peterson  MIN vs. SD
Bell is back for week 3 and for my money he is the number one running back. DeAngelo Williams was a stud in fill-in duty and now a far superior back (Bell) returns to action. Jamaal Charles is one of the most complete running backs in the league and must be started every week. The Bears are bad and they lost their quarterback. Their porous defense will be on the field all game and Beast Mode will wear them out. McCoy looked spry in week 2 and may be close to putting the hammy issue behind him. Pair that with Miami's inability to stop the Jags and things look good for Shady. Peterson gets to go up against a Chargers team that was run over by Giovani Bernard, need I say more?
Week 3 Wide Receiver Rankings / Week 3 Quarterback Rankings / Week 3 Tight End Rankings
Strong Plays (Reliable, But A Notch Below)
6. Mark Ingram  NO @CAR
7. Latavius Murray  OAK @CLE
8. Jeremy Hill  CIN @BAL
9. Matt Forte  CHI @SEA
10. Frank Gore  IND @TEN
In a tough week for running backs, I have Ingram number 6 against a solid Carolina defense. The Saints may focus on the ground game with Brees set to miss time. Murray is always a big play threat and Cleveland will likely be focused on stopping the passing game. Hill was in the doghouse after fumbling in week 2, but fumbles have not generally been a problem for him. Look for a resurgence against the Ravens. Forte draws a tough matchup, but there will be garbage time points to be had in what should be a beatdown by Seattle. Gore is a bit of a reach, but the Colts have historically been rock solid in division play. Look for Gore to get the ball to protect Luck, who has been getting mauled by pass-rushers.
Risk/Reward (Potentially Shaky)
11. Eddie Lacy  GB vs. KC Questionable
12. Jonathan Stewart  CAR vs. NO
13. Chris Ivory  NYJ vs. PHI
14. Rashad Jennings  NYG vs. WAS
15. Joseph Randle  DAL vs. ATL
16. Melvin Gordon  SD @MIN
17. Carlos Hyde  SF @ARI Questionable
18. Alfred Morris  WAS @NYG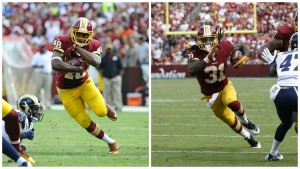 18a. Matt Jones  WAS @NYG
19. Justin Forsett  BAL vs. CIN
20. C.J. Anderson  DEN @DET
Eddie Lacy moves way down as he will likely be splitting carries if he plays. Stewart will be facing a depleted Saints team in what should be an ugly game. Ivory should return to form against the Eagles who do not look like a good team so far. Rashad Jennings has not impressed so far, but he is a skilled back and should have a nice game in week 3. Randle has a nice matchup and the Cowboys will run if they can with no Romo, Dez and maybe Witten. Gordon is developing quickly and I think he sees the end zone this week. Carlos Hyde is banged up and faces a stout Cardinals defense, this should be a tough one. Alfred Morris and Matt Jones reps are anyone's guess. I slightly favor Morris for now, but not by much. Forsett goes up against a tough rush defense, but they are susceptible to the pass and he has nice hands. This is Anderson's chance at redemption, let's see if he can get his owners some kind of return.
Question Marks (RB2 Upside)
21. DeMarco Murray  PHI @NYJ Questionable
22. Dion Lewis  NE vs. JAC
23. Danny Woodhead  SD @MIN
24. Lamar Miller  MIA vs. BUF Questionable
25. Giovani Bernard  CIN @BAL
26. LeGarrette Blount  NE vs. JAC
27. Ameer Abdullah  DET vs. DEN
Despite having been the driver of the Demarco Murray bandwagon, he has something to prove now. He won't prove it against the Jets. Dion Lewis is a unique talent, but the Jags defense is underrated. Woodhead always seems to find a way to have some value and this week should prove no exception. Lamar Miller should struggle versus the Bills but he may see the end zone. It is a remote possibility that Bernard sees another game as the lead back at some point, be ready. Blount should see more action than he did in week 2, but who can say with Belichick? Abdullah showed his upside in week 1 and his downside in week 2, temper your expectations going forward.
Flex Appeal (Usable In A Pinch)
28. Isiah Crowell  CLE vs. OAK
29. T.J. Yeldon  JAC @NE
30. Shane Vereen  NYG vs. WAS
31. Doug Martin  TB @HOU
32. James Starks  GB vs. KC
33. Dexter McCluster  TEN vs. IND
34. Devonta Freeman  ATL @DAL
35. Duke Johnson Jr.  CLE vs. OAK
36. Ronnie Hillman  DEN @DET
37. David Johnson  ARI vs. SF
38. Tre Mason  STL vs. PIT
Crowell is the back to own from Cleveland until Duke Johnson Jr. is healthy. Yeldon goes into Foxboro this week, limiting his value. Vereen's pass catching ability is keeping Rashad Jennings from being an elite option. Martin is still unimpressive, start him if you must. Starks could see an expanded role, he moves up into the 20s if Lacy can't go. McCluster is the most talented player in Tennessee's backfield, for what that is worth. Freeman should have opportunities, but what will he do with them? Duke Johnson Jr's best days are ahead of him, but I don't think that they will come in week 3. Hillman could still sieze the reins in Denver, but it has not happened yet. Johnson has the skills to put up numbers, but the almost-useless Chris Johnson will inexplicably take away some carries. Mason is the back to start in St. Louis for this week, but that may change in week 4.
Tough Sledding (Let Them Be Someone Else's Problem)
39. C.J. Spiller  NO @CAR
40. Lance Dunbar  DAL vs. ATL
41. Bishop Sankey  TEN vs. IND
42. Darren Sproles  PHI @NYJ
43. Darren McFadden  DAL vs. ATL
44. Chris Johnson  ARI vs. SF
45. Karlos Williams  BUF @MIA
46. Joique Bell  DET vs. DEN
47. Todd Gurley  STL vs. PIT Questionable
48. DeAngelo Williams  PIT @STL
49. Bilal Powell  NYJ vs. PHI
50. Lorenzo Taliaferro  BAL vs. CIN
Keep in mind that a player being listed at the bottom of the rankings does not mean that he is useless. I just do not recommend that he be deployed this week in anything short of an emergency. Those are your week 3 running back ranks, feel free to comment or find me on Twitter with questions. Good luck this week and if you own C.J. Anderson or DeMarco Murray I have my fingers crossed for you.