There are some interesting situations heading into the week 5 matchups. New starters are being decided after some major injuries and several suspensions are ending. The rankings are excellent, but a few of them are a bit out of whack. This is where I make a few adjustments based on what I have seen and pass along my changes. If you'd like to see last week's rankings report or all of the rankings, check them out as well.
Quarterback Rankings Report – Undervalued
Carson Palmer ARI Ranked #21   My Ranking #12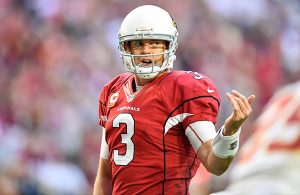 The Cardinals offense is learning to play without David Johnson and they aren't looking bad. Palmer has put up at least 19 points in each of the last three games. They were against awful defenses, but the Eagles aren't the '85 Bears either. The emergence of Jaron Brown and re-discovering Andre Ellington in the passing game have Palmer back on the map. I like him just outside the top-10 quarterbacks in week 5.
Jacoby Brissett IND Ranked #25   My Ranking #15
The Colts are still awful, but the 49ers aren't that much better. Last week Brissett looked like a JV quarterback facing the varsity defense, but that was the Seahawks. San Francisco allows just over 17 fantasy ppg to opposing quarterbacks so there should be plays to be made. In his last game versus a below average defense, Brissett put up 30 fantasy points. That is probably out of the question for this week, but he should be in the range of bye-week fill in starters.
Quarterback Rankings Report – Overvalued
Deshone Kizer CLE Ranked #8   My Ranking #20
So far Kizer has turned the ball over 9 times in 4 games. That is an average of -4.5 points per game due to turnovers. The Browns do not have enough firepower for Kizer to overcome that kind of deficit and be a top 10 producer very often. The Jets seem like a great matchup, but they are coming together lately. The Jets defense has allowed 20 points combined in the last 2 games. If the Browns think that week 5 will be a cakewalk, they could be in for a rude awakening. Kevin Hogan could be playing before this game is over.
Alex Smith KC Ranked #9   My Ranking #18
The Chiefs are on fire and look like Super Bowl contenders in the early going. Alex Smith has put his haters firmly in their place, but pump the brakes. Two dominant showings came against a porous New England defense and the Redskins. The 'Skins held up until Josh Norman went out with an injury and then all hell broke loose. Outside of those games, Smith has scored 18 and 16 fantasy points. In week 5 he goes up against a strong Houston defense with a mean pass rush. Look for Smith to be right in that 16-18 point range again.
Running Back Rankings Report – Undervalued
LeGarrette Blount PHI Ranked #32   My Ranking #16
The run defense of the Cardinals is a respected unit and for good reason. Blount has been running with purpose over the last two weeks, though. He looks like the player that ran over defenses in New England and Arizona will not be able to shut him down. I would not expect RB1 numbers again, but he should be well worth a lineup spot and should be a RB2.
Doug Martin TB Ranked #43   My Ranking #25
It has been a few weeks since Martin has played a game, but this matchup is as friendly as they come. The Patriots cannot stop anyone, on the ground or through the air. It is not likely that Martin sees a full complement of touches in week 5, but he won't need to. I fully expect Martin to hit the ground running and owners should feel free to put him in their lineups out of the gate unless they have amazing alternatives.
Running Back Rankings Report – Overvalued
Lamar Miller HOU Ranked #11   My Ranking #21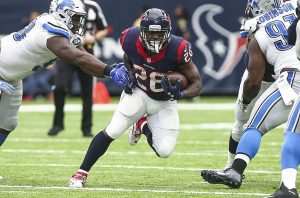 The emergence of Deshaun Watson has the Texans offense humming, but this game will be tough for Miller. The Chiefs are stymying opposing running backs and this game will be no exception. The pass defense of the Chiefs has been fairly porous, so look for Houston to take to the air in this matchup. I still like Miller as a RB2, but a repeat of last week is not in the cards.
Marshawn Lynch OAK Ranked #19   My Ranking #35
This seems like a tasty matchup at first glance as the Ravens have been torched this season. The absence of Derek Carr is going to make the Raiders very one-sided on offense however. It is unlikely that EJ Manuel will get enough going for Lynch to find any room to run. He still could see some lineups as a flex, but if he doesn't score it will be a rough week.
Wide Receiver Rankings Report – Undervalued
Danny Amendola NE Ranked #30   My Ranking #20
The Patriots are facing a very forgiving Tampa secondary and I think that points will be flying. Amendola has double digit points in two out of three games that he has played. Hogan and Amendola are the top wide receiver options at this point. Brandin Cooks has tremendous big play ability, but he is a forgotten piece. Look for Amendola to wreak havoc over the middle against Tampa.
DeSean Jackson TB Ranked #35   My Ranking #24
Speaking of awful defense, the Patriots are playing some. This matchup is going to decide the fates of some fantasy teams this weekend. DeSean Jackson has been seeing some shots down the field, but with minimal results. This week he is going to hook up for at least one long score. Jameis and Company are going to feast on the cardboard cutouts in the Patriots defensive backfield.
Wide Receiver Rankings - Overvalued
Brandin Cooks Ranked #12   My Ranking #28
There is no rhyme or reason to when Cooks is going to have a big game. The only sure thing is that it does not happen very often. Chris Hogan and Rob Gronkowski are the only sure things in the Patriots receiving corps. Cooks has tremendous skill, but he is being overlooked. He is tough to trust on a weekly basis and I do not think that changes this week.
Amari Cooper Ranked #22   My Ranking #43
The Raiders offense is going to see a big drop off with no Derek Carr. Cooper has struggled this season even with the starting quarterback in the fold. Drops and general poor play have been the story of the season thus far. There is little doubt that this will continue against a very strong Ravens secondary.
Tight End Rankings - Undervalued
Cameron Brate Ranked #13   My Ranking #7
Not to belabor the whole Bucs-Pats point, but Brate is going to get his as well. He has been on a bit of a hot streak lately, putting up 80 yards and a touchdown last week versus the Giants. The Pats are not quite as bad against tight ends, but it is close. A touchdown is not a sure thing, but Brate should be up there in catches and yards.
Zach Miller Ranked #22   My Ranking #13
There has not been a lot for Miller to do thus far in 2017. The ascension of Mitchell Trubisky to starter should boost up his reps a bit. Trubisky will be looking to get acclimated and the tight end is a young quarterback's best friend. Factor in the Bears awful receivers in general and the veteran tight end should see some work.
Tight End Rankings - Overvalued
Jason Witten DAL Ranked #4   My Ranking #15
One thing that the Packers can do is stop opposing tight ends. Their defense is improving and is already light years better than last season. Jason Witten is becoming an afterthought in the Cowboys offense. He was vintage Witten early on, but now he looks like he is in the twilight of his career. Look elsewhere at tight end if you have other options.
Tyler Kroft CIN Ranked #12   My Ranking #23
Last week was very exciting for Kroft and anyone that used him (especially in DFS). It is going to be a different story versus the Bills talented defense. The Browns cannot defend any tight end; it is money in the bank starting TEs versus Cleveland. The Bills on the other hand, rank 6th versus opposing tight ends and will not let Kroft do anything. Tyler who?
Be sure to check back daily for more exclusive FK content. As always, follow us on Twitter for extra insight and analysis:@_knuckleheads and @brendancole16.