The week 4 streaming options were a mixed bag as expected, but a couple hit. OJ Howard and the 49ers defense in particular were nice fill-ins at their respective positions. There will always be highly volatile results when choosing from little owned commodities. Of course, the same can be said of just about everything in fantasy football.
Quarterback
Jacoby Brissett IND vs. SF
The Colts are still awful, but they have been looking slightly more like an NFL team. Brissett has the potential to be a solid quarterback, but lacks the supporting staff. Playing a lackluster 49ers team at home may be just what the Colts need to put up a fight. With Frank Gore showing his age, there should be no choice but to rely on the pass. Enter dual-threat, Jacoby Brissett (feel free to use that).
Josh McCown NYJ @CLE
Remember, this is a streaming option only and this may be one of the only startable weeks for McCown. The Browns profile as an opponent that the Jets can take advantage of. The Jets feature a big, athletic tight end in Austin Seferian-Jenkins and the Browns cannot defend tight ends. That should open things up for semi-pro wide receivers Jermaine Kearse and Robby Anderson. This is scraping the bottom of the waiver wire, but I could see a 20 fantasy point day for McCown in week 5.
Running Back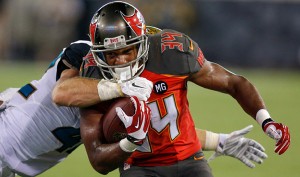 Charles Sims TB vs. NE
The return of Doug Martin will put a damper on other Tampa Bay Running backs. At the same time, the Pats have been gashed by running backs catching the ball out of the backfield. Sims has not been used to his full potential yet, but the Pats defense is ready to give it up in week 5.
Kyle Juszczyk SF @IND
There was a lot of buzz surrounding the king of consonants in the offseason. He should start to get more involved in this developing offense and week 5 is a good bet for this. The Niners have a tough streak of defenses after Indy, but for week five Juszczyk is one of the better RB dice rolls. He is more desirable in PPR of course.
Wide Receiver
Kenny Stills MIA vs. TEN
The Dolphins offense is a mess, but Kenny Stills is always a threat for a big play. Week 5 brings a matchup with a reeling Titans defense and a chance at redemption for the 'Fins. Jay Cutler will have throws open downfield...if he can remember which color jersey to throw at. Stills should have a couple of opportunities to make a big play and I think that he cashes in.
Markus Wheaton CHI vs MIN
So far this season Wheaton has zero catches and I don't like him as a long term acquisition. In week 5, he faces the Vikings abysmal pass defense, however. There is a good chance that for this week Wheaton not only sees targets, but sees the end zone. The Vikings cannot stop anyone through the air and Chicago should take advantage of that. Word is now that Mitchell Trubisky will be starting for the Bears in week 5. That could make Wheaton even more appealing depending on who the rookie connects with.
Tight End
Jared Cook OAK vs. BAL
For the most part, Cook is good for 40 yards per week. That is not very tempting as a fantasy starter, but week 5 is different. He will be facing the Ravens and their lack of ability to stop tight ends. There is a chance that Derek Carr misses time, but EJ Manuel should have a similar gameplan. Either way, there is not stopping tight ends versus the bottom-dwelling Ravens.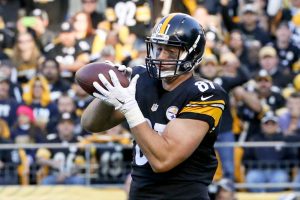 Jesse James PIT vs. Jacksonville
The Jags defense is improving, but they are in the bottom third of the league versus opposing tight ends. A lot of looks should go to Antonio Brown after his sideline tantrum, but James is going to be open. With a veteran quarterback like Roethlisberger, it is a good bet that James will see some passes coming his way. This could lead to a solid one week showing for the little used tight end.
D/ST
Raiders vs. BAL
The Ravens offense has been beyond terrible this season. They have no viable running backs and Joe Flacco is looking like the worst quarterback in football. The Raiders are not a great defense, but the Ravens ARE a great matchup. There is no reason to think that the Raiders should not put up double digits versus the gimpy birds.
Titans @MIA
This is a strange one, because I think that the Titans will probably give up some big plays. I also think that the Dolphins will make enough mistakes to make up for that fact. Cutler is going to turn the ball over, maybe a lot. There will be plenty of opportunity to give up a couple of shots downfield and still be one of the better defenses for the week.
If you would like some more long term options for your team, check back tomorrow for the week 5 waiver wire picks. As always, follow us on Twitter for more insight and analysis: @_knuckleheads and @brendancole16.