The bye weeks continue as we roll into week 6 and that will leave the options thin in some leagues. Streaming picks are meant to be used as a last resort, when you need someone that will almost definitely be available. My week 5 picks were successful at quarterback and D/ST, the rest...not as much. Either way, here are my picks for very lightly owned players that could produce in week 6.
Quarterback
Jacoby Brissett IND
The streaming picks are intended to be for just one week. In this case I can't pass up one more serving of Brissett. The Titans are terrible against the pass. They have been shredded by good and mediocre quarterbacks alike. The Colts look like a team that is tired of losing. They stepped up in week 5 and next week brings a new test.
Kevin Hogan CLE
Bear with me here, I realize that Hogan was the Browns backup and he faces the Texans. This is a matchup from hell, but it got easier. Whitney Mercilus and JJ Watt both left the Sunday night game with what look like significant injuries. Their defense will be significantly out of sync without two of the biggest playmakers in the league. Hogan has looked OK in limited action and has something to prove. I'm not predicting 300 yards, but if you are desperate you might get 210 yards 2 tds and a pick.
Running Backs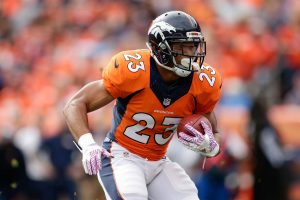 Devontae Booker DEN
The Broncos have mutltiple viable rushers and Booker is about third in the pecking order. For one week, he could be a useful start though. The Giants do not stop the run. They just lost their only playmaker in Odell Beckham Jr. They also may be without Sterling Shephard and Brandon Marshall next week. All signs point to the Broncos having a big lead early in this game. With that being the case, some starters should rest and Devontae Booker may see a fair number of carries.
Jalen Richard OAK
The Raiders offense is not explosive minus Derek Carr. There is an outside shot that Carr comes back next week, but more likely Manuel gets another start. Marshawn Lynch is looking old and slow, causing him to cede some touches. The Chargers gave up yards to the Giants awful running backs and that means Richard could do some things. He is also a nice option for short passes by Manuel. I like Richard's skill set, but this is just a matchup play. He is not worth even owning on a long term basis as the Raiders like Lynch.
Wide Receivers
Marquise Goodwin SF
The 'Niners are a boom or bust offense and Goodwin fits that description as well. He gets a fair number of targets, but does not always do much with them. In week 6 he faces an improved Redskins defense, but they are without Josh Norman. Losing one of the best corners in the league is going to be a huge issue for Washington. The 49ers should be able to throw in this one and that means that Goodwin has a shot at a couple of big plays.
Bruce Ellington HOU
The Texans have shown that they can put up a lopsided number on subpar competition. They don't get much more subpar than the Browns, so Watson should have a big day. Ellington is one of the top targets after DeAndre Hopkins. He has had a serviceable game already, but has generally not been useful. I think that the Cleveland game will give him one more chance to be worthy of a lineup spot.
Tight Ends
A.J. Derby DEN
I wrote earlier that the Giants cannot stop the run. Well, they can't stop tight ends either. (Not being able to stop multiple positions is a quick route to 0-5). Derby alerted the world to his existence with 75 yards and a touchdown versus the Raiders in week 4. Look for another score from the little owned tight end before he fades back to obscurity.
Tyler Higbee LAR
I like Gerald Everett more long-term, but Higbee is getting the playing time at the moment. The Rams face the Jaguars in week 6 and that is a tough matchup. One factor that gets overlooked is that the Jags are not great versus tight ends. They are incredibly tough on wide receivers, but the big men in the middle can get free. It is a good bet that Higbee stacks up yards and possibly scores as well.
D/ST
Atlanta Falcons
The defense of the Falcons has been mediocre to start the year. Nothing jump starts a defense like a visit from Jay Cutler though. The Dolphins have been a machine when it comes to producing for opposing defenses. The Falcons should be a nice play in week 6.
Tampa Bay Buccaneers
The Bucs have had a couple of negative-point fantasy showings. They are a risky start, hence the streamer status. There is a tasty matchup on the horizon with the Cardinals. Arizona has not adapted well to the absence of David Johnson. This profiles as a nice matchup for a young and opportunistic Bucs defense.
Be sure to check back tomorrow for the week 6 waiver wire picks. Don't be the last one to know which players are hot waiver commodities. As always, follow us on Twitter for more content: @_knuckleheads and @brendancole16.