The fantasy football season is rolling along and teams need to start their playoff push. Bye weeks make that difficult as many players will need a substitute. This is fairly easily addressed at some positions. With that in mind, here are the week 9 streaming picks for kicker, team defense and quarterback.
Quarterback
Drew Stanton ARI
The last thing that most people want to do is roll Stanton out as their quarterback. By "most people", I mean the Arizona Cardinals of course. Like the Cardinals though, tough situations call for unsavory decisions. Stanton has never measured up as a quarterback, but he is facing a VERY soft defense. The 49ers give up yards to everyone and Stanton does have some pieces to work with. Adrian Peterson should take some pressure off the passing game. In turn, that should free up some play action and I would not be surprised to see a pair of touchdown passes here.
Trevor Siemian DEN
It has been an up and down season for Siemian. So far the "down" has outweighed the "up" by a fair margin. There are still some premier playmakers in Denver and they are facing a soft pass defense. The main problem here is going to be the pass rush of the Eagles. If the Broncos line can keep Siemian on his feet for a couple of seconds, there will be plays to be made. On the whole, I would not want to own the Broncos QB but things are looking up for week 9.
The Broncos look to be benching Siemian after his disaster versus the Chiefs. Obviously he is not a good streaming choice...or a good anything else.
Kicker
Ka'imi Fairbairn HOU
It has been a great season for the Texans kicker as far as accuracy. He is a perfect 11 for 11 so far, which is great. The only downside (and this is only a downside for the kicker) is that Deshaun Watson finishes drives. There have not been a ton of field goal chances because Watson gets the team into the end zone so much. It is safe to say that there will be a lot of visits to the red zone however. The Colts are not exactly stonewalling the opposition this year. If a couple of drives fizzle out, Fairbairn could have a big day. Especially since he will likely kick 7 or 8 extra points.
Blair Walsh SEA
The Seahawks offense is heating up in a big way. It seems like every season they come on down the stretch...and here it comes again. The 'Hawks are riding high after surviving a shootout with the Texans and phenom Deshaun Watson. Next week brings a matchup with the Redskins and Russell Wilson will likely be dealing again. That should mean tons of opportunities for points by Blair Walsh. Field Goals and extra points should both be easy to come by in this one.
D/ST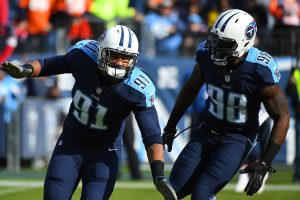 Tennessee Titans
The last few games have been like fantasy football Christmas for the Titans defense. They have faced the Dolphins, Colts and Browns before getting a bye. Now freshly rested, they will have an inept Ravens offense stumbling into town. This one seems like a no brainer for anyone streaming defenses. I know that I will be picking up the Titans for some week 9 matchups.
Atlanta Falcons
There has not really been a signature game for the Falcons defense this year. They are decent against the run and have a couple of playmakers. On the season, the Falcons are yet to give up more than 23 points in a game. Keeping the score down is the first step for a fantasy defense. They will be playing a mistake prone Panthers team. There is a good chance that this will lead to a turnover or two. If the Falcons can force some mistakes, it could be their first double digit fantasy game of the year.
Check The Streamers From Last Week
Hold onto your FAAB and waiver priorities, because the waiver wire picks are coming tomorrow. I have some SCARY good picks (sorry) for my Halloween edition of week 9 waivers. Check back all week for more help with locking up your fantasy title. As always, follow us on Twitter for some extras: @_knuckleheads and @brendancole16.