This time of year I spend a lot of time doing fantasy football drafts. Probably too much time, but you benefit from that because I bring you the trends. There are a few players who keep ending up on my fantasy teams because:
A. I think they will have a huge year.
B. Their draft position is consistently appealing to me.
For the purpose of this article, I'll stick with three players who I feel like I need to have on my fantasy squad going into the 2015 season.
1. Justin Forsett  RB  Baltimore Ravens
This guy is not a sleeper, but I see him slipping lower than he has any right to be in a lot of drafts. Forsett showed his skills in small bursts for years, but was always stuck behind someone else in a rotation. In a lot of cases this would mean that a player is just not good enough to start, but Forsett was great when he was given his opportunity last season. There is absolutely no reason why he should not put up numbers at least equal to 2014 (over 1500 total yards and 8 touchdowns). This is a guy who has a career YPC average of 5.1 and he still has relatively fresh legs. Forsett is going to be in a situation similar to Michael Turner when he finally got a starting gig. He will reel off three or four top flight seasons before his age finally catches up to him. Just look at these highlights and tell me that you don't want him on your team. Get in on the ground floor believing in Forsett and he could reward you with a top 5-10 running back season.
Take him instead of: Lesean McCoy, Melvin Gordon, Matt Forte (On the fence, use your judgement)
Speaking of bargains, who does Pete recommend?
2. Vincent Jackson  WR  Tampa Bay Buccaneers
This might seem like a strange pick since I was a bit down on Mike Evans in another article. It just seems like Jackson is falling to me in a lot of drafts where I think he is a bargain. There is so much hype around Evans and to a lesser extent Austin Seferian-Jenkins that it seems like people are writing off Evans as being done. I know that he is 32 years old, but that is much less problematic for a wide receiver than a running back. Jackson still has a lot left in the tank and the paltry 2 touchdowns last season were probably an aberration. If you're in a redraft league grab Vincent Jackson at a discount, you'll thank me later.
Take him instead of: Sammy Watkins, Martavis Bryant, Golden Tate
3. Martellus Bennett  TE  Chicago Bears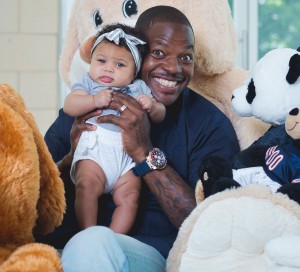 Bennett put up big numbers last season and the best may be yet to come. Not for the Bears by any means, but for Bennett's statistics. The Bears have a banged up receiving corps and some of the issues are likely to linger all season long. This is going to mean big things for Bennett as Cutler already relies on him a large percentage of the time. Last season, Bennett caught 90 passes for over 900 yards and 6 touchdowns. He was an absolute beast in PPR leagues and that is going to continue indefinitely.
Take him instead of: Everyone not named Gronkowski or Graham
As with any advice, take it with a grain of salt when it comes to your own league. The flow is always different and values should be adjusted on the fly based on who is available. I think in the majority of drafts you will find that these three players are available beyond when they should be gone, however.
Another running back who should not be a bargain, but may be.