As my first season participating in a fantasy experts' auction draft came to a close, I thought that a look back could be useful to the readers and my own edification. It was a bit of a mixed bag for the Fantasy Knuckleheads squad. I won the championship, but the team went 7-6 in the regular season. The team had the most points for during the season, but there was also a huge draft bust on the roster.
What Went Right?
Trusted My Research, Flexible On My Plans
Going into the draft there was a plan in place, but as always things changed in a hurry. The thought of taking two or three of the top receivers went out the window as prices were predictably high. The strategy shifted and I decided on grabbing high upside running backs. Three backs in a similar price range ended up on my team in E. Elliott, L. McCoy and D.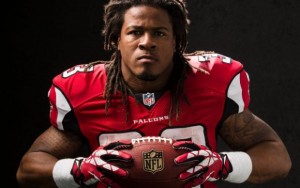 Freeman. These are three players that I thought would have a big year but some others had as question marks. In the end my stable of running backs carried the team and I was right about Freeman continuing to produce.
Hit Waivers Hard
No draft turns out exactly as planned and mine was no exception. Having several great running backs is a big boost, but in PPR receivers are key. My initial thought was that I could build around DeAndre Hopkins, but the Texans forgot to throw to him all year. As I was left scrambling the only option was to discern which waiver wire options would keep the team competitive. The highlights of waiver wire finds this season included Rishard Matthews, Marqise Lee, Marcus Mariota, Ty Montgomery and Zach Ertz.
Manipulate The Lineup
Having the right players is the biggest part of the battle, but knowing when to play them is important as well. Once Jordan Howard exploded onto the scene, I had four great options at running back and three spots for them. On top of that there were only a couple of decent receivers on the roster and at least three of them had to play. Luck (not Andrew) played a part, but trends and matchups helped me discern what player to roll with in a given week as well.
What Went Wrong?
Admit When You Were Wrong
Some players are difficult to bench because they were high draft picks, expensive auction acquisitions, etc. A couple of players that fit the bill on my team were DeAndre Hopkins, Golden Tate and Coby Fleener. There was some control excercised with eventually benching Tate and Fleener, but Hopkins was in the lineup every week. At some point a manager has to admit that a player may just be having a down year and go another direction. I refused to do so and almost missed the playoffs as a result.
Keep The Format In Mind
This is not to say that I forgot about the PPR aspect of the league, but I could have drafted better. The fact that the running backs on Fantasy Knuckleheads panned out was a stroke of luck. One serious injury would have completely derailed the season, but that is probably true of every team. Next season, a more diverse crop of wide receivers would probably be a better strategy than spending quite so much on the running back position.
Final Takeaway
There was a lot of luck involved in the Fantasy Knuckleheads championship run, but it was skill that put the pieces in play to begin with. By watching the market and adjusting I was able to put together a good crop of high upside talent. Even after most of the budget was gone, some lottery tickets were still available. One of them panned out in a big way (Jordan Howard for $1). Consistency is king when it comes to the higher priced players in an auction, but never be afraid to gamble on a potential game-breaker in the late rounds.
I would just like to take this opportunity to thank everyone that read my work this season. I hope that some of the waiver wire and sleeper picks helped out your teams. Researching and writing certainly improves my fantasy game and it is my goal to pass that on to my readers. Thanks again and see you next season.