Fantasy players are fine tuning their rankings and looking for any possible advantage before draft day. This includes trying to read into what players will break out and carry fantasy teams to the promised land. The question is: Should fantasy players pay attention to the hype when it comes to breakout player predictions?
The easiest way to look into this issue is probably to consider breakout candidates from past seasons. There is no perfect way to decide if the hype was warranted, but in most cases it is fairly obvious. Fantasy owners tend to remember which players helped their team and which ones torpedoed their season.
There were a few players who seemed like can't miss breakout candidates in 2013 and 2014. I have chosen five from each season to make my case. After taking a look at those results, we can take a peek at the top breakout candidates for this season and what their prospects might be.
2013 Breakout Candidates
David Wilson RB New York Giants- 144 rush yards 8 receiving yards 1 total td
Wilson did not set the world on fire in the first couple of games in 2013. Then he injured his neck and was diagnosed with spinal stenosis. This effectively ended his football career due to risk of future injury. While the injury is not Wilson's fault, he certainly did not break out in 2013. Grade: Fail
Ronnie Hillman RB Denver Broncos- 218 rush yards 119 receiving yards 1 total touchdown
It looked like 2013 would present Hillman with every opportunity to be a monster running back. Things did not turn out that way. Hillman had issues with fumbles and ineffectiveness while Knowshon Moreno took over in a major way. Moreno finished the season with over 1500 total yards and 13 touchdowns. Grade: Fail
Alshon Jeffery WR Chicago Bears- 89 receptions 1421 receiving yards 7 touchdowns
2013 was the coming out party for Alshon Jeffery as a top flight wide receiver. He propelled fantasy teams to success as he tore up the gridiron on a weekly basis. Grade: Breakout
Ryan Tannehill QB Miami Dolphins- 60.4% completions 3913 yards 24 tds 17 ints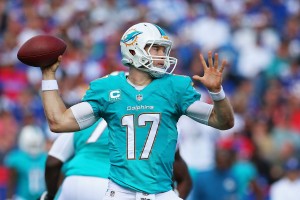 Tannehill made major strides in 2013, but the calls for a breakout were about a year early. His numbers were very usable, but he was still a bit turnover prone. Grade: Near Breakout
Danny Amendola WR New England Patriots- 54 receptions 633 receiving yards 2 touchdowns
Many fantasy owners were looking to Amendola to step in as the new Wes Welker, but it was not to be. Amendola was an average receiver at best and most managers did not bench him until he had done irreparable harm to their seasons. Grade: Fail
2013 Breakout Percentage: 40% success rate
2014 Breakout Candidates
 Montee Ball RB Denver Broncos- 162 rush yards 62 receiving yards 1 total touchdown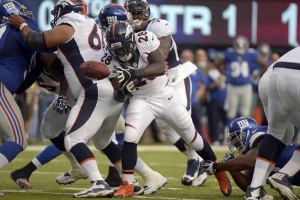 Two years in a row, Broncos backs were targeted for a breakout. Both times they blew up the rosters of the owners who invested in them. Just for the record, I think that C.J. Anderson is the real deal. Grade:Fail
Andre Ellington RB Arizona Cardinals- 660 rush yards 395 receiving yards 5 total touchdowns
Due to injuries and less touches than owners would like, Ellington disappointed a bit. Of course, the Cardinals did not have an NFL quarterback for much of the season. The season was not a total disaster for Ellington, but it was hardly a breakout. Grade: Moderate Disappointment
Toby Gerhart RB Jacksonville Jaguars- 326 rush yards 186 receiving yards 2 total touchdowns
Gerhart's first crack at being a feature back was an abysmal failure. He averaged 3.2 yards per carry and lost the starting job to Denard Robinson. Grade: Fail
Cordarrelle Patterson WR Minnesota Vikings- 33 receptions 384 receiving yards 117 rush yards 2 total touchdowns
The Vikings turned to Patterson surprisingly rarely in the passing game. Week after week fantasy owners were stymied if they chose to continue starting the talented wideout. Grade: Fail
Emmanuel Sanders WR Denver Broncos- 101 receptions 1404 receiving yards 9 receiving touchdowns
After spending an uneventful four seasons with the Pittsburgh Steelers, Sanders exploded onto the fantasy scene in Denver. Becoming one of Peyton Manning's favorite targets tends to be good for a career and Sanders was no exception. Grade: Breakout
2014 Breakout Percentage:20% Success Rate
2015 Breakout Candidates
Teddy Bridgewater QB Minnesota Vikings
2014 was a difficult year for a Vikings team that was without star running back Adrian Peterson. Bridgewater made impressive strides throughout the season, however. This year with Peterson back in the fold, Bridgewater will look to take the next step. Outlook: QB2- Still a year away
Will Bridgewater Up His Game In 2015?
Amari Cooper WR Oakland Raiders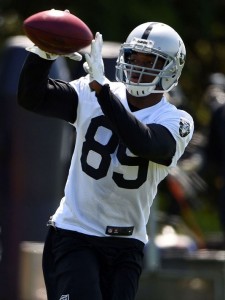 Cooper has the look of a receiver who will set the league on fire right away. He plays on a team with few other legitimate offensive threats and has the skills to take over a game. Jerry Rice recently compared Cooper to former Raider Tim Brown. Outlook: Legit-Buy Cooper
Carlos Hyde RB San Francisco 49ers
All of the skills are there for Carlos Hyde, but he plays for what should be a bad team. There is also the presence of Reggie Bush to account for, although he will not likely take away too many carries. Hyde should carry the load in San Francisco. Outlook: Pay for RB2, hope for RB1
Joseph Randle RB Dallas Cowboys
It seems like many fantasy owners are too quick to discount the skills of Demarco Murray. The Cowboys do have a dominant offensive line, but I would not be so quick to believe that any back can have success running behind it. Randle may have a decent season, but it would not surprise me if the running game saw much less success than in 2014. Outlook: Beware the bust
More analysis of Randle's breakout potential
Travis Kelce TE Kansas City Chiefs
Kelce had a very solid season in 2014 and has a good rapport with Alex Smith. As he looks to build off the 862 yards and 5 touchdowns from last season, Kelce appears to be on the verge of a true breakout.       Outlook: Breakout on the horizon
So over the course of the last two seasons, potential breakout players have had a success rate of 30 percent. This means that most likely one or two of the breakout candidates this season will be a huge help to fantasy squads. Based on the players featured in this article, it also means that the players who do not succeed may flame out in a major way.
It seems that the lesson to be learned is to be careful when paying for potential. If these players fall to you for a decent price, by all means take a chance. If the price is too high, on the other hand, go for a known commodity.