The Falcons running back situation has been as clear as mud this preseason. This makes for some interesting drama for beat writers, but fantasy owners are sweating it out at drafts. Here is my take on who you should be drafting, it's a two pronged approach based on format and both players have value.
Redraft Leagues:
For redraft leagues, I think that you are going to want to draft Devonta Freeman higher than Tevin Coleman. Neither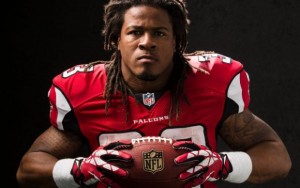 of these guys is a top flight pick based on the shaky offensive line play in Atlanta, but Freeman has slightly more trust from Coach Quinn. This has not yet manifested itself in Freeman being named the starter and Coleman is going to get his carries. The good news when it comes to the likely comittee aspect is that offensive coordinator Kyle Shanahan has a track record of success with multiple backs. Last season in Cleveland, three backs received over 100 carries and there were useful games to be had from Cleveland running backs. The bottom line for this season is Freeman is going to be on the positive side of the time share and he should be more consistent. Health is going to play a big part in the opportunities available early on in the season as both backs have struggled to get on the field. Coleman played a bit in the third preseason game, but may not be fully healthy as he only managed 2 yards on 4 carries. Either way, Coleman is certainly worth a draft pick, but he is probably being overdrafted at the moment in redraft leagues.
Keeper Leagues:
Keeper leagues are significantly less murky when it comes to which Atlanta back to grab first. Tevin Coleman has a tantalizing skill set that presents more upside over the long haul. He should have some exciting moments in 2015, but not enough to rate him as a reliable starting option. He should have some flex appeal when the matchup is favorable, but I would not rely on him to have the impact of a Jeremy Hill or the like. There will probably not be many opportunities to pick up Coleman at a discount in your keeper league draft as he still has a slight chance to be named the starter for 2015. I don't believe that this will happen, but still be prepared to pay top dollar if you want to secure the services of Tevin Coleman for the next few seasons. I think that he will end up being worth the price in the long run. Even without a strong run-blocking line, the presence of Julio Jones should open up some room on draw plays.
The splits between Coleman and Freeman are tough to call. Don't forget the excitement that surrounded Freeman when he was the backup to Steven Jackson. He still has the skills to carry the rushing load if given the chance. Coleman is even less proven than the unproven Freeman and will have some catching up to do with schemes and pass-blocking. This should limit his time on the field, at least in the beginning. Kyle Shanahan is going to make things interesting, and it is probably best to grab both backs or avoid the situation in a redraft league. Another interesting situation to monitor will be the value of both backs in daily fantasy leagues. That is where Coleman could have the most value in the short term.
Check out the three players I think you NEED for your fantasy team.