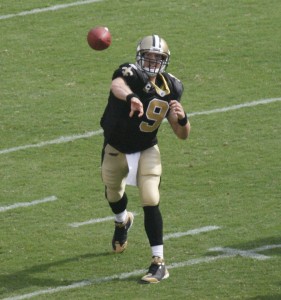 Fantasy football is truly a "what have you done for me lately" kind of game. A season or even a few game stretch of not playing up to expectations can dramatically alter the value of a player. Yet, you still see players with the big name that just won't go away, whether or not the stats continue to warrant the value. So I find it fitting to take a good hard look at the big name QB that is Drew Brees to determine if he's still worth a spot in the top 5 heading into this season.
Let's first approach this from a statistical standpoint. Here are some important stats for Brees from 2014 that you should know:
Brees finished 6th among QBs, his worst finish since 2010.
He threw for 4,952 yards, his first time failing to eclipse the 5,000 mark since 2010.
He threw 33 touchdowns, his lowest rate since 2010.
Despite a solid completion rate of 69%, he still managed to throw 17 interceptions.
He was one of only five QBs who managed to score double digit points in 15 games.
The glaring problem for me this season isn't Brees himself but whether the talent around him can elevate his fantasy stats higher than 2014. Of the five players on the Saints that led in targets last year, three are no longer there. Jimmy Graham, Kenny Stills and Pierre Thomas have all found themselves elsewhere for 2015. Brees still has remaining talent from the emerging Brandin Cooks and you can't forget the presence of Marques Colston.
Graham was the obvious favorite target of Brees, and for years, the two were a thing of beauty for fantasy owners. Last season Graham accounted for a team high 124 targets and finished with 10 touchdowns. The TE position now falls in the hands of Josh Hill and Ben Watson. Hill is the top candidate to become Brees' new high powered starting TE but we need to see it for a longer stretch then just a few games before he can fully trusted. Plus, I find it hard to believe that Hill is a sleeper ready to emerge into same level of elite talent that Graham has been.
Pierre Thomas was the fifth most targeted player on the team in 2014 with 55 targets. Thomas out, C.J. Spiller in. Spiller is an explosive RB that was never used properly with the Bills. Get that guy in space and he has the ability to turn any play into a big one. Spiller may not take many carries away from Mark Ingram but this should be good news for Brees stats as they plan to get Spiller involved in the passing game. It could be like the good ole' days when Brees had the explosive play making ability from Darren Sproles catching balls out of the backfield.
Despite the player changes, the Saints passing game isn't in shambles like some may have thought. The bigger issue is that I don't think Brees has the tools to put together better numbers than last season. It seems likely that his ceiling is right at 6th among QBs . For me his value seems fair as the 7th or 8th QB off the board. There will ultimately be someone in your draft that reaches for Brees way too early as there is always someone with the stigma of aiming for big names over realistic value. Draft smart, don't be that person.