The New Orleans Saints entered the 2015 NFL Draft armed with nine picks. As the action wrapped up on Saturday in Chicago, the Saints used every one of those picks, drafting nine new faces that they hope can play their part in what will be a pivotal 2015 season in the crescent city. The Saints have also been busy putting together a class of undrafted players to supplement their draft picks as the team looks to get their 2015 plans underway in earnest with minicamps and OTAs on the horizon.
Here's our grade and analysis of the Saints' 2015 NFL Draft haul:
(1st Round- 13th overall) Andrus Peat-OT-Stanford
The Saints rocked the boat to some degree with their selection of Peat, a player the team's brass felt had earned too good of a grade to overlook. While New Orleans has a formidable pair of bookends in Terron Armstead and Zach Strief, Peat adds a third option to the mix and provides the Saints with flexibility to shuffle things around in the trenches. There is a spot to fill after the team dealt former Pro Bowler Ben Grubbs to the Chiefs in March, and Strief has played inside before. Peat may also be tasked with pushing Armstead on Drew Brees' blind side, though he best projects as a right tackle. Peat is a road grader in the run game, but is developing as a pass protector. A potential contributor for years to come, this is an efficient pick for the Saints, though Peat may not be the difference-making impact player that the team could have found at 13 with the likes of DeVante Parker, Bud Dupree and Shane Ray available.
Grade- B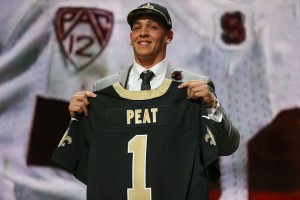 (1st Round- 31st overall) Stephone Anthony-LB-Clemson
The Saints used their second first-rounder to nab Clemson's Anthony, who should be able to make that type of instant impact on the team's defense. New Orleans struggled on that side of the ball greatly throughout 2014, taking a major step back from their productive and effective 2013 season under Rob Ryan. With Curtis Lofton out the door, Anthony should see plenty of action in Ryan's base 3-4 set inside next to David Hawthorne. Anthony is a terrific blitzer from the Mike spot, and does not get enough credit for his ability to cover in both man and zone schemes. As he develops into a more complete 'backer with proper development and seasoning under the watch of Ryan and linebackers coach Joe Vitt, Anthony figures to blossom into a three-down player for New Orleans. His ability to run sideline-to-sideline and shoot through gaps will give the Saints the type of plug-and-play difference-maker they may have been looking for earlier in the draft, which helps justify and clarify the selection of Peat at 13.
Grade- A
(2nd Round- 44th overall) Hau'oli Kikaha-LB-Washington
The Hawai'i native joins with Anthony to help bolster the Saints' depth at the linebacker spots. Kikaha has shown a knack for being around the ball and making big plays, as evidenced by his 51.5 tackles for loss and 7 forced fumbles across 44 games at UW. Whereas Anthony's game is more tailor-made for the Mike spot, Kikaha profiles best as an outside 'backer. His pass-rush skills should see him in the mix for snaps, particularly on passing downs in sub-packages. While a very good player and just as good a pick by New Orleans, Kikaha does come with an injury red flag due to a pair of ACL tears sustained over the last four years. The Saints showed just last year that they are willing to take a gamble with injured players as they selected both Khairi Fortt and Ronald Powell who had similarly checkered injury histories. If he can stay healthy, Kikaha is just the type of player the Saints need as they look to add pass rushers to a group that already features the likes of Junior Galette, Cameron Jordan and Akiem Hicks.
Grade- B
(3rd Round- 75th overall) Garrett Grayson-QB-Colorado State
The Saints may have used their first third-round pick to grab the potential heir to Drew Brees' throne. Seen by many as the draft's third-best quarterback prospect behind only top-2 picks Jameis Winston and Marcus Mariota, Grayson has the type of traits and skills that coach Sean Payton loves in his signal-callers. It's no coincidence that Grayson drew plenty of comparisons to Brees throughout the buildup to the draft. A modestly-built player who can make all the throws with tremendous accuracy and nice touch on the deep ball, Grayson will be brought along slowly behind future Hall-of-Famer Brees, who figures to have at least three more years left as one of the game's best quarterbacks. Look for Payton and the Saints' offensive staff to immerse Grayson in the playbook over the summer as they feed him as much information as he can handle. Plenty of preseason reps over the next couple of years and even more time spent with Brees and Payton in the film room will enhance Grayson's chances of one day reaching that throne. The Saints could have waited another round or two and found a quality option such as Baylor's Bryce Petty or UCLA's Brett Hundley, what it was clear that Grayson was their man.
Grade- B

(3rd Round-78th overall) P.J. Williams - CB- Florida State
The selection of Williams will bring back memories of Patrick Robinson, another former Seminole corner who didn't quite pan out the way the Saints had hoped. Robinson, however, was a first-rounder, and Williams may have gone higher in his own right if not for some concerns over recent off-field issues. Williams was a first-team All-ACC selection and was the Defensive MVP of the 2013 BCS title game. A plus-athlete with good ball skills and plenty of experience playing in press-man coverage, which Ryan employs, Williams is a nice fit and a good value grab by the Saints.
Grade- B
(5th Round-148th overall)Davis Tull -LB- UT-Chattanooga
There was no doubt that the Saints would look to stockpile players at the linebacker positions, and Tull joins both Anthony and Kikaha to form a nice trio of picks at those spots. The three-time Southern Conference Defensive Player of the Year, Tull has good size at 6'2 246, and is armed with tremendous athleticism (4.57 40, 42.5" vertical, 11-foot broad jump). Tull is another very nice value pick who can give the Saints what they are looking for in terms of difference-makers on the edge.
Grade- B+
(5th Round-154th overall)Tyelet Davison - DT- Fresno State
Davison played for Tim DeRuyter out west, where he led the Bulldogs with 8 sacks a season ago which helped him garner a first-team All-Mountain West selection. At 6'2 316, Davison played both inside and outside along the Bulldogs' front, and displayed a knack for making powerful, disruptive plays thanks to his strength and high motor. The Saints needed to strengthen their depth along the defensive front, and Davison's versatility will come in handy.
Grade- B
(5th Round-167th overall)Damian Swann - CB- Georgia
A playmaker out of the talent-rich SEC, Swann excelled in Georgia's defense, recording 8 interceptions, 6 forced fumbles, 10 tackles for loss, and 4 sacks over the course of his career in Athens. He gave pro scouts and personnel people plenty of film to evaluate, having started 39 games at Georgia. His somewhat underwhelming athletic measurables may have weighted him down to the end of round 5, but the Saints, ranked near the bottom of the league in takeaways last year, need players like Swann. A potential future safety, Swann should team with P.J. Williams and 2014 second-rounder Stanley Jean-Baptiste to form a talented pool of depth behind starters Keenan Lewis and Brandon Browner.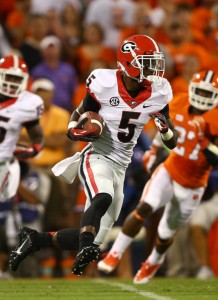 Grade- B
(7th Round-230th overall)Marcus Murphy- RB- Missouri
The Saints' final selection of the 2015 draft, Murphy profiles as a scat back type who will have to earn his spot on special teams. Despite his diminutive size, Murphy did not test out well with regards to his athleticism, but is the type of player who plays faster when the pads come on. He was able to make his mark in Columbia as a runner, receiver and return man, and the Saints could use that type of player on the roster with Pierre Thomas and Travaris Cadet now elsewhere. If any coach in the league can get the most out of a player like Murphy, it is Sean Payton and his skill weapon-friendly system. Murphy will have to make wave sin the preseason, but at worst, could be a candidate for the taxi squad. Running backs are usually found quite easily in the undrafted free agent market (see Pierre Thomas, Khiry Robinson, Travaris Cadet) so New Orleans must have seen something they like in Murphy, namely his versatility and ability to perform as a satellite player.
Grade- C
Notable undrafted free agent signings
Tavaris Barnes - DL - Clemson - Former teammate of Stephone Anthony, could compete for a spot in the D-Line rotation.
Malcome Kennedy - WR- Texas A&M- The Saints did not select a wideout in this draft, so Kennedy has a chance to impress with a strong summer.
Kaleb Eulls- DT - Mississippi State- Like Barnes. Eulls will have a chance to compete for a spot in the rotation on the defensive line.
Harold Spears - TE - New Hampshire- The former high school basketball star has a chance to make an impact as the Saints look for help at the tight end spot following Jimmy Graham's trade to Seattle.
Overall Draft Grade- B
The Saints were able to meet some key needs and strengthened in areas that needed some enhancement. Overall, it appears to be a very good draft haul on paper. However, as we know, it's years down the road that the real grades are assigned, not days after the draft. Nevertheless, this draft class represents a good starting point for the New Orleans Saints as they head into 2015.