The closest thing to real football is preseason week 3. The coaches and players usually consider this a dress rehearsal so some conclusions can be drawn. It is probably foolish to drastically change any opinions based on a game, but it can answer some questions.
Dolphins Vs. Eagles
Eagles Quick Hits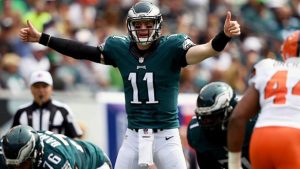 There was a fair amount of scoring in this game and it was mostly done by stars. None of these stars were from the Eagles backfield because it is a mess. First team snaps were split between LeGarrette Blount and Wendell Smallwood. While Smallwood looked better running the ball, he whiffed on a pass rusher allowing a sack. The Eagles are not going to let Wentz get beat up, if Smallwood cannot pick up defenders he will not play.
The passing game was a bit more encouraging for Philadelphia. Wentz connected with Torrey Smith for a 50 yard touchdown. This came on a broken coverage and was mainly a fluke, but it will still happen from time to time. Smith is the definition of boom or bust and cannot be used on a weekly basis. Alshon Jeffery looked crisp in this game, catching 2 balls for 35 yards and a touchdown. Zach Ertz played his normal possession receiver role (3 catches 44 yards). Overall the Eagles offense looks like it will be exciting if the can figure out a running game.
Dolphins Quick Hits
Jay Cutler has a tendency to strongly favor one receiver on his team. It would appear that on the Dolphins that receiver is going to be DeVante Parker. Cutler loves to throw the deep ball and in this game he hit Parker with a long jump ball. After going up and making the catch, Parker pulled away from defenders and turned it into a 72 yard gain. If this is how the regular season will look, Parker could finally have the breakout that pundits have been predicting since last year. Julius Thomas caught a touchdown pass in this game as well. Of course, his total stat line was 2 catches for 1 yard and a touchdown. That is probably what can be expected from Thomas in a good game.
The run game for Miami is the polar opposite of Philly. They have a no doubt starter in Jay Ajayi and he showed everyone why preseason week 3. On 9 carries, Ajayi picked up 53 yards and 2 touchdowns. He looks primed for another big year as the feature back in Miami.
Panthers Vs. Jaguars
Panthers Quick Hits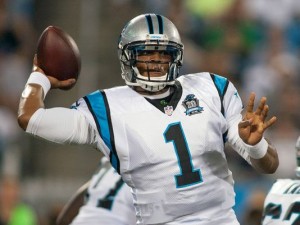 Preseason week 3 was the first action for Cam Newton. He played only briefly, but went 2-2 for 21 yards and a touchdown to Kelvin Benjamin. It would be a stretch to say that this put anyone's mind at ease about Cam, but at least he was on the field. Devin Funchess caught both passes sent his way for 21 yards. He did not see much action with Newton, but he is still slated to start opposite Benjamin.
Both starting running backs looked decent in this one. Stewart had 5 carries for 39 yards while McCaffrey got 7 carries for 21 yards and had a 12 yard reception. Cameron Artis-Payne looked decent against the backups going 9 carries for 37 yards and two touchdowns. It would probably take multiple injuries for Artis-Payne to be relevant.
Jaguars Quick Hits
Doug Marrone was hoping to get some help in deciding on a quarterback on Thursday. What he got was further confirmation that his quarterbacks are not very good. Bortles and Henne each put up a mediocre performance, neither setting themselves apart from the other. Henne did have a nice 37 yard connection with Allen Robinson, but was otherwise uninspiring. This situation is likely to hold back the entire Jaguars offense this year. In turn the defense may underperform because they may be on the field A LOT.
Leonard Fournette sat out preseason week 3 with a foot injury. He says that it is not related to the injuries to the same foot that cost him time in college. In his place, Chris Ivory put up decent number for the Jags. Ivory ran 10 times for 36 yards and a touchdown.