Opportunity is the name of the game in fantasy football. Mediocre players with sizable opportunity can get you more bang for your buck than great players with limited opportunity. That's how you find value picks.
And the easiest way to figure out which running backs -- average or elite -- will have the most opportunities is by looking at how their offense performed last year and assessing how many vacated carries are now available for them to snatch up. Because carries = chances. And in many cases, chances > talent.
Denver Broncos
Vacated Carries: 314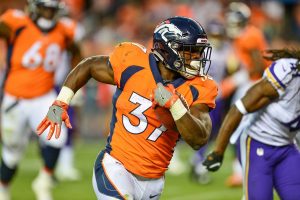 C.J. Anderson has left town, leaving behind his 245 carries from last season. That's a nice chunk, even for a team as offensively inept as Denver, who ranked 27th in points scored last year. Whoever takes over the backfield will likely have a huge opportunity behind an improved offensive line, which Pro Football Focus moved up 4 spots in their rankings heading into the 2018 season.
Who Benefits Most: Royce Freeman.
Look, Devontae Booker is...fine. He's a steady presence in the backfield who was better last season than most critics gave him credit for. But he's no Royce Freeman. Oregon's all-time leading rusher is more explosive, more powerful, and a better downhill runner. If this offense can take a step forward with Case Keenum at the helm, Freeman should be in position to reach 250 carries.
Arizona Cardinals
Vacated Carries: 310
The trio of running backs Arizona cobbled together to fill in for their injured superstar -- including the ashes of Adrian Peterson -- weren't exactly impressive with their cumulative 3.2 yards per carry. They didn't look like David Johnson. They looked like three Little Rascals standing on each other's shoulders wearing an oversized David Johnson costume. It wasn't pretty.
Who Benefits Most: David Johnson.
No need to get cute here. David Johnson is going to feast like he feasted in 2016, with all but a handful of those 300+ carries going his way. Aside from Larry Fitzgerald, Johnson is the only game in town. There is no RBBC, only Johnson.
Indianapolis Colts
Vacated Carries: 266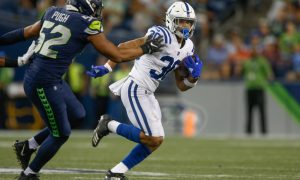 Old Man Gore loaded his walker and his Craftmatic adjustable bed into a U-Haul and headed for the ultimate retirement spot, Miami, taking his plodding, apparently unbenchable bones with him. Despite posting a career low 3.7 yards per carry, Gore was still tasked with carrying the run game on his back. Whoever takes over should automatically see better efficiency marks behind a substantially improved O-line.
Who Benefits Most: Whoever takes the first snap in Week 1 of the season.
That may sound like a cowardly answer for those who demand I pick a side in the Colts running back raffle, but there's been far too much inconsistency and too many injuries at the position to wager on anyone in particular. Marlon Mack didn't look spectacular last year, Nyheim Hines is a scat back, and Robert Turbin is suspended for the first four games. That leaves Jordan Wilkins and Christine Michael vying for a bigger role. If I had to guess, I'd put my eggs in Wilkins' basket. But we won't know where this backfield carousel stops until real football starts.
New York Giants
Vacated Carries: 257
The hot mess that was the Giants' backfield has been drained and replaced with a superstar rookie. Orleans Darkwa, Paul Perkins, and Shane Vereen will take their mediocre production elsewhere in 2018.
Who Benefits Most: Saquon Barkley.
As with Arizona, there's really no reason to talk about this one. Barkley is by far the highest-rated rookie running back of the 2018 draft, and he'll get as many opportunities as he can handle in New York.
San Francisco 49ers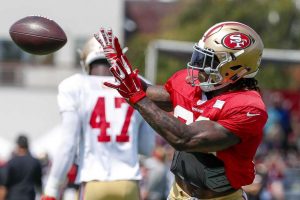 Vacated Carries: 240
Carlos Hyde is gone, and Kyle Shanahan has put his money on former Vikings' pass-catching dynamo Jerick McKinnon. Matt Breida and Joe Williams are still hanging around, though, and there's been some new/old blood brought in to sure up the backfield.
Who Benefits Most: Jerick McKinnon? Who the hell even knows anymore?
Up until last week, I would have said McKinnon had a real shot at being a slighter version of the 49ers bell cow, with Breida spelling him for maybe 30 percent of snaps. But injuries have piled up, and now McKinnon and Breida are questionable to start the season. Alfred Morris may not even make the roster, but his signing is worrisome. They clearly don't trust sophomore Joe Williams to carry the load, so if McKinnon's injury ends up being more serious, this could turn into a complicated RBBC. For now, you have to trust Shanahan's view of things, which puts McKinnon in the spotlight.
Cleveland Browns
Vacated Carries: 206
Hue Jackson and company finally gave up on the Isaiah Crowell experiment in Cleveland, opting to overhaul the backfield by signing Carlos Hyde and drafting Nick Chubb in the 2nd round. The question is, will Jackson come to his senses and use his new toys more than he did Crowell?
Who Benefits Most: Carlos Hyde.
You don't pay a running back $5 million to have him sit on the bench, even if you spent significant draft capital at the position. Unless Hyde gets injured, he will be Cleveland's starter this year, with Chubb playing a smaller complimentary role. Can Hyde finally notch a 1,000 yard rushing season? Crowell couldn't in his 4 years as a Brown, so expectations should be tempered for Hyde's ceiling. Coupled with Duke Johnson's obvious role as the primary pass-catching RB, I'm still not touching Hyde this season.
Philadelphia Eagles
Vacated Carries: 189
The Eagles' running game was somewhat of a work-in-progress all of 2017, as the team brought in Jay Ajayi midway through the season and tried to utilize a Belichick-ian trifecta of backs. LeGarrette Blount took his bruising running style to Detroit, while Philadelphia added only journeyman Matt Jones to the backfield, cementing their faith in the guys already on the roster.
Who Benefits Most: Corey Clement.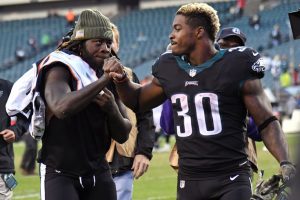 In his first season, undrafted free agent Corey Clement was eased into the Philly offense, seeing double digit carries in just 3 games. In those games, however, he averaged 4.2 yards per carry and scored 2 rushing touchdowns, proving he can handle a respectable workload. He can also handle red zone duties.
On his 4 attempts inside the 5-yard line, Clement scored twice. In contrast, Blount -- Philly's actual goal-line back -- had 10 carries inside the 5-yard line, and scored just once. Ajayi wasn't used inside the 5 whatsoever, and failed to convert any of his 6 touches inside the 10. Clement's not a big guy by any means, but he proved he can play like one.
Darren Sproles is back to eat up some of the passing work, but it'll be Ajayi and Clement's backfield. Both will get more work this year -- especially with Carson Wentz nursing an ACL injury -- but the edge goes to Clement.
Carolina Panthers
Vacated Carries: 198
Jonathan Stewart got the stanky boot from Carolina, taking his meager 3.4 yards per carry over to New York, where he'll once again play second banana to a flashy rookie. That leaves a whole lotta carries up for grabs, albeit behind a significantly downgraded offensive line.
Who Benefits Most: C.J. Anderson. Barely.
This is a weird one to predict. Anderson was an under-appreciated talent in Denver, putting together one of the quietest 1,000 yard seasons in history in a terrible offense. But the coaching staff has backed up their proclamations that sophomore Christian McCaffrey would be given a much higher rushing workload in 2018.
Still, I don't buy CMC getting an extra 100+ carries between the tackles this season. Anderson is a much better runner than Jonathan Stewart at this point in his career, and it would be a waste not to give him 150 touches. CMC will do more on the ground this year, but it's Anderson who inherits the majority of Stewart's vacated carries.
If you found this article helpful, make sure to check out my Vacated Targets piece to see which wide receivers will get more opportunities this year. And for a more in-depth look at complicated backfields, check out the Fantasy Knuckleheads draft guide!