---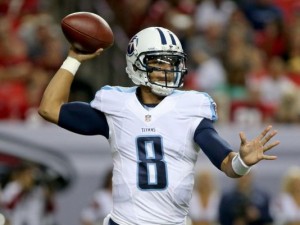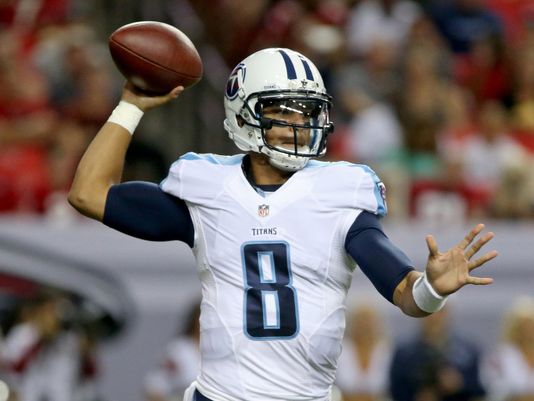 As the regular season matriculates into Week 2, your emotions are transforming from the ecstasy of finally watching regular season NFL contests, toward the fluctuating quality of your rosters' initial performances, and how effective you believe your players will be in the upcoming weeks. This of course includes your quarterbacks.
Those of you who have entrusted Peyton Manning, have to be concerned after his season opener, as 27 signal callers accumulated more yardage. Of course, anyone who started Philip Rivers or Tom Brady should be ecstatic, as Rivers assembled a league best 404 yards, while Brady generated four touchdowns. The only other quarterback to match Brady's total was Marcus Mariota, during his commendable NFL debut.
As we now proceed to Week 2, all quarterbacks will attempt to become increasingly comfortable with the offensive scheme, and the personnel that it comprises. Those who are struggling to supply an acceptable amount of fantasy points will become candidates for their owners' roster alterations. While some of you will remain steadfast, and stick with the signal callers that you drafted. At least for the immediate future.
Bye weeks are not a concern at this point, and all primary options remain healthy entering this week's matchups. Which enables us to progress smoothly into the Week 2 forecast. Owners who are planning to stream their quarterback selections will not be forgotten, nor will those of you who play in 2QB or Superflex leagues. Enjoy this week's games, and good luck to everyone.

Top 25 Rankings
Drew Brees vs. Buccaneers
The largest challenge for Brees owners this week will be managing their eagerness for him to take the field against Tampa Bay. The Buccaneers surrendered four touchdowns Mariota his first game as a professional, and one can only imagine what Brees and the Saints' reconditioned offense will accomplish against them. He amassed the third highest yardage total in Week 1, when he dissected the Cardinals for 355 yards. While he was limited to one touchdown, that number should rise this week.
Matt Ryan at Giants
During his Monday Night matchup in Week 1, Ryan generated 298 yards, which was the seventh highest total for Week 1. 141 of those were accrued on connections with Julio Jones, who also caught both of Ryan's touchdown passes. While Philadelphia's pass defense did force Ryan into two interceptions, he performed well overall. He should deliver excellent numbers this week against a Giant defense that must quickly rebound from a torturous last second loss in Dallas.
Andrew Luck vs. Jets
Luck owners were warned that his output would be below the usual standards in this column last week. But the degree to which Buffalo completely suppressed Luck and the Colt offense exceeded expectations. Indianapolis did not even score until less than one minute remained in the third quarter, and picked off Luck twice. Now, he must contend with a stingy AFC East defense for the second straight week, when Indy opens at home on Monday Night. Which will force those of you who paid a substantial price for the privilege of having Luck, to endure another week of just moderate production.
Aaron Rodgers vs. Seahawks
Rodgers is hardly the only signal caller who has struggled against the menacing Seahawk defense in recent seasons, but his output during their two 2014 matchups is sobering. Rodgers managed just 378 yards and two touchdowns, while tossing three interceptions in both games combined. And that was with Jordy Nelson operating as his primary option. Owners can take solace in the success that Nick Foles experienced in Week 1, when he amassed 297yards against the Seahawks. That leaves them ranked just 21st entering this matchup.
Ben Roethlisberger vs. 49ers
Roethlisberger and the Steeler offense moved the ball consistently in Week 1. But even though he produced 351 yards through the air, Roethlisberger nearly failed to generate a touchdown. However, he finally managed to boost both the spirits and the point totals of his owners by locating Antonio Brown with just: 02 remaining. Roethlisberger must overcome the collective absence of Le'Veon Bell, Martavis Bryant, and Pro Bowl center Maukice Pouncey again this week. But he should still combine with Brown to manufacture respectable numbers versus a San Francisco unit that only yielded 231 yards to Teddy Bridgewater in Week 1.
Sam Bradford vs. Cowboys
In four seasons as a Ram, Bradford averaged 227 YPG, during a tenure that was heavily impacted by injuries. But in his debut with the Eagles, he overcame a slow start to accumulate 336 yards. That is an impressive result, especially considering that he had not thrown a forward in the regular season for 23 months. He is surrounded by an excellent line, works within a highly embraceable scheme, and should shatter his previous career bests in every category, if he can remain healthy.
Carson Palmer at Bears
Palmer returned to the field, and resumed the pace that he had established in 2014. He had constructed an 11 TD/ 3 INT ratio in six games of last year's injury shortened season, but should now provide owners with an appealing option while piloting Bruce Arians' offense. He amassed the sixth highest yardage total among all quarterbacks in Week 1 (307), and was one of the six signal callers who produced at least three touchdowns. This week he will step under center with an excellent chance to sustain high quality production, versus the suspect Chicago secondary. 
Tony Romo at Eagles
Romo outdueled Eli Manning during their highly anticipated Sunday Night shootout, which included an electrifying final eight minutes. The game was culminated by Romo's game winning pass to Jason Witten, which completed his 356 yard- three touchdown effort. He will now contend with a Philadelphia unit that ranks 25th after contending with Ryan in their opener. However, he will be forced to operate without his most dangerous target, and would be ranked much higher if not for the unfortunate foot injury to Dez Bryant.
Russell Wilson at Packers
The fourth year signal-caller delivered a very Wilsonian performance in week 1, by accumulating passing a respectable (but not spectacular) 251 yards and one touchdown through the air, while supplementing that output with 31 yards on the ground. His score occurred on a throw to Jimmy Graham, as Wilson took advantage of the most talented receiving weapon of his tenure by connecting with Graham six times for 51 yards. This is a promising sign for owners of both players, as it occurred versus a St. Louis pass defense that only yielded two scores to tight ends throughout all of 2014. Expect similar output from Wilson this week.
Eli Manning vs. Falcons
Manning was unable to match the production of Romo during the opening matchup between two long-time NFC East rivals, as he manufactured less than 200 yards (193), and failed to produce a touchdown. Those results were disheartening for anyone who had hoped that he could replicate his 2014 success against the Cowboys (six touchdowns, 586 yards). Manning certainly has proven that he possesses the acumen to assemble significantly better numbers, and can accomplish that employing Odell Beckham Jr. extensively. However, Dan Quinn is already improving the Falcon defense, and this could be a more challenging week for Manning than originally anticipated.
Tom Brady at Bills
Brady opened the season by fluidly directing an aerial assault that often left the Pittsburgh defense in disarray. The Steelers were also thoroughly incapable of neutralizing Rob Gronkowski, as Brady combined with Gronk for of his 288 yards, and three of his four touchdowns. Brady must deal with a much sturdier unit in this week's matchup, versus a Buffalo defense that absolutely stellar while constraining Luck and the Colt offense in Week 1.
Ryan Tannehill at Jaguars
Tannehill was the recipient of a highly favorable Week 1 matchup, versus a charitable Washington secondary. Therefore, fantasy observers and owners were expecting him to thrive during his enticing opener. However, he only supplied adequate production, while manufacturing 226 yards and a touchdown. While that certainly does not qualify as a disaster, Tannehill cannot be considered as anything beyond a low-end QB 1 when the Dolphins travel northward to Jacksonville. Nor any week beyond until he displays improved accuracy and better play making ability on the field.   
Peyton Manning at Chiefs
Manning was alarmingly unimpressive in his first contest while spearheading Gary Kubiak offensive scheme. In fact, 27 signal callers generated more yardage Week 1 including these notables: Andy Dalton, Nick Foles, Ryan Fitzpatrick, Tyrod Taylor, Blake Bortles, Kirk Cousins, and even Johnny Manziel. Not to mention Marcus Mariota and Jameis Winston in their NFL debuts. Manning failed to produce a touchdown, and barely remains in this week's top 12. As it is very difficult to envision him performing significantly better on four days rest, and doing so inside Arrowhead Stadium.
14. Philip Rivers at Bengals
15. Teddy Bridgewater vs. Lions
16. Matthew Stafford at Vikings
17 Andy Dalton vs. Chargers
18. Joe Flacco at Raiders
19. Tyrod Taylor vs. Patriots
20. Nick Foles at Redskins
21. Cam Newton vs. Texans
22. Marcus Mariota at Browns
23. Colin Kaepernick at Steelers
24. Jameis Winston at Saints
25. Alex Smith vs. Broncos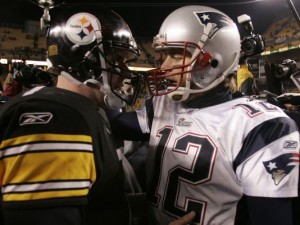 Best Matchups
Drew Brees vs. Buccaneers
Owners who utilized an early round pick on Brees should receive more favorable returns on their investment this week, as the 15-year veteran should flourish versus an exploitable defense that is far less capable than what he faced in Arizona. Tampa Bay's inadequacies helped first-time starter Mariota perform like a perennial top tier quarterback, as they failed to intercept any of his passes, while permitting those four touchdowns. This unit will struggle further to contain Brees' receiving options, even if they do not match the level of quality of his previous groups. Brees should encounter little difficulty in exploiting gaps as they develop within the Tampa 2 scheme, and locate his open targets. Owners can anticipate at least 300 yards, and multiple scores during the Saints home opener.

Matt Ryan at Giants
Owners should be ecstatic that Ryan will now face a highly burnable defense that just allowed two late fourth quarter drives, and a game winning touchdown pass. Only Detroit allowed more yardage than the Giants in Week 1, and they will be tested by Ryan and OC Kyle Shanahan in this matchup. Ryan distributed the ball to seven different receivers during his opener, while 11 of 34 targets went to Jones. Which of course, comes as a surprise to nobody. Owners are already aware that Ryan's best opportunity to stockpile fantasy points will be to continue locating Jones. New York is well aware of this too, and will attempt to disrupt Ryan in his efforts. However it is noteworthy that the Giants failed to generate a sack in Week 1. If Atlanta's offensive line can maintain a clean pocket, Ryan will deliver high quality numbers.
Carson Palmer at Bears
Any fan or owner would want their quarterback to have a shot at the same Chicago defense that was just beaten for three touchdowns by Rodgers. Palmer now steps under center with the chance to sustain the high quality production that he supplied versus an injury plagued Saint defense in Week 1. Meanwhile, the Chicago pass defense held up better than many  - including myself - expected. Plus, John Fox and DC Vic Fangio will improve the unit as time progresses. Still, they will have great difficulty combating Palmer's aerial assault on Sunday. And will be particularly susceptible when attempting to contain John Brown.


Worst Matchups
Tom Brady at Bills
Brady's Week 2 experience will be vastly different than what he encountered during his opening night performance. He will not be the beneficiary of a supportive crowd, and he be lining up against a Buffalo defense that is far less hospitable than the sieve-like Steelers. The Bills were exceptional in their opener, while demonstrating that they will be every bit as formidable to opposing offenses as they were in 2014. And they accomplished it without Marcel Dareus. Brady has certainly proven that he can handle pressure. But his owners should not expect a second straight four-touchdown masterpiece when he is confronted by Rex Ryan's tenacious unit.
Peyton Manning at Chiefs
Overcoming Brian Hoyer and Ryan Mallett in Week 1 may not initially appear to be a major accomplishment. But the Chiefs have consistently demonstrated their acumen versus the pass, having ranked second in 2014. They also finished fifth with 46 sacks last season, and are fully capable of shrinking the pocket, and creating discomfort for Manning. He was far from proficient in Week 1, and must now lead the Bronco offense into unfriendly confines on a short week. He only averaged 210 YPG in two encounters with the Chiefs last season, although he did produce five touchdowns. But KC's pass defense will present problems, and this unit will be highly motivated during this home opener in prime time. The uneasiness within Manning owners will only rise during this encounter.
Cam Newton at Texans
Several defenses should wreak more havoc upon their opponents than they did in Week 1. The Seahawks immediately come to mind, and very nearly were the topic of this paragraph. However the Texans' defense, will also provide a massive challenge for weapon-deprived Newton when they meet in Houston. The Panthers' signal caller only manufactured 175 passing yards last Sunday, and Carolina now ranks just 27th in total offense after managing only 263 total yards. Talent deficiencies combined with mistakes to limit their output. But it is disconcerting that those struggles occurred against Jacksonville. The JJ Watt-led Texans can pose far greater problems. Even though they must overcome the inadequacies of their own offensive attack by spending additional time on the field. Even owners in deeper leagues should consider their options before employing Newton.