The final installment of sleeper running backs by division focuses on the NFC East. This division features what should be some talented offenses, but murky backfields. There is not really a clear cut starter in the bunch as long as Zeke Elliott is suspended. This makes the division a minefield, but there is value to be found as well.
Dallas Cowboys
Alfred Morris
Morris is a player that has been underrated throughout his career. He is not the flashiest or the fastest, but he gets the job done. Ahead of him on the depth chart is Darren McFadden who was admittedly good last time he started in Dallas. McFadden also has a lengthy history of injuries and underperforming.
The odds are strong that McFadden will carry the load if he can stay healthy. Even if that happens, however, it is possible that Morris works as the goal line back. That would give him some utility in deeper leagues. If he works his way to the starting job, he would be bordering on RB2 territory. Of course this is all just until Elliott comes back. Once Zeke is in the game, the other backs fade into the background.
New York Giants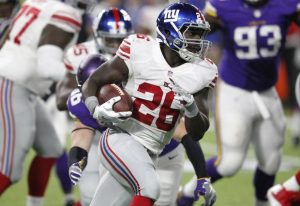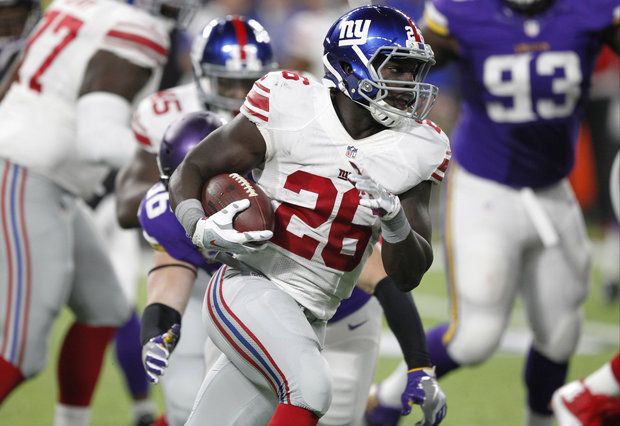 Orleans Darkwa
Paul Perkins and Shane Vereen are set to dominate the snaps for the Giants offense. At least that is what everyone thinks for today. The coaching staff love Darkwa and will try to find ways to use him. That is going to be easier if Perkins cannot carry the load himself.
Darkwa has gotten extensive time working with the first team offense at camp. He also has split first team reps with Perkins leading up to the first preseason game. In the game itself, Darkwa did not get many reps but he had a nice 11 yard run. The Giants backfield has been difficult to predict for a few years. Perkins and Vereen are the safer bets, but Darkwa is almost free at the end of the draft. He is not a bad bet to be worth a flex at some point during the season.
Philadelphia Eagles
Wendell Smallwood
The Philadelphia backfield is another difficult one to read. LeGarrette Blount should handle most of the first and second down work. Darren Sproles is the quintessential third down back and should be in for passing plays. Rookie Donnel Pumphrey looks like he will mix in with Sproles to give the aging back a breather. That leaves Wendell Smallwood as the backup to starter LeGarrette Blount. This sounds like a worthless position if you listen to the wave of Blount hype.
The issue here is that Blount is getting older and will be working with a new offense. While I expect him to have big touchdown numbers, he will need a break as well. Smallwood has the skills to be a three down back and I would not be surprised to see him get about a third of the carries. Depending on which back gets hot, he could earn additional time as the season goes on. Do not rule out a scenario where Smallwood dominates the touches later in the season.
Washington Redskins
Chris Thompson
One of my favorite players to draft is Chris Thompson, especially in PPR leagues. He never factors into the "starter" conversation in Washington despite his contributions. This sure handed receiving back is also an underrated rusher. Rob Kelley is certainly better suited to the short yardage bulldozer role, but Thompson could excel with more touches.
It seems like the Redskins will never give him a chance to start considering he sat during Matt Jones's struggles. Still, the coaches trust Thompson and he is almost guaranteed about 10 touches per game. In PPR that is almost definite double digit points on a weekly basis. He is a bit more restricted in standard scoring formats, but still worth owning. In ten team leagues he should be on waivers, but deeper than that he needs to be rostered.
Thanks for checking out my sleeper running back picks for each division. Feel free to tell me what you thought about the series in comments or on Twitter. Keep checking back with Fantasy Knuckleheads leading up to the regular season and we will continue to deliver the goods.
Coming in the next couple of days will be my definitive draft strategy for 2017, you won't want to miss this one!
More RB Sleepers By Division:
AFC:
NFC: