For managers playing zero running back or those looking for a bargain, sleeper running backs are key. Next in the series of sleeper running back by team articles is the AFC North. This division has featured heavyweight rushers over the past few years, but there are value picks as well.
Baltimore Ravens
Buck Allen
Toward the end of 2015 it looked like Allen was the Ravens back of the future, but times have changed. Terrance West has been good on rushing downs and now Woodhead enters the fold as the receiving specialist. That does not leave much on the table for Allen to scoop up. The only reason that he is borderline relevant now is that Kenneth Dixon is out for the year.
There is still some reason for hope when it comes to Allen. He is an excellent pass catcher and has shown flashes of brilliance when given a chance. If West struggles then Allen would likely get another chance at an expanded role. Woodhead is probably the most valuable back overall, but Allen should at least see the field.
Cincinnati Bengals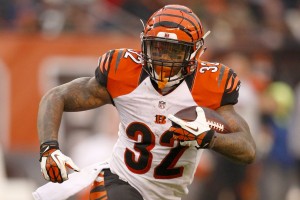 Jeremy Hill
The Bengals have inexplicably given Hill more playing time than he deserves for two seasons. Rookie Joe Mixon looks like a star, but would it be surprising if Hill muted his value a bit? Running back is a jumble in Cincy with Mixon coming in and Bernard and Hill still in place. All indications are that Mixon should see the Lion's share of carries, but things never seem to play out as expected in this backfield.
In all likelihood, Bernard will still see some playing time on passing downs. Hill is almost a lock to carve out a role on short yardage and maybe goal line. That could end up being the most profitable role in the backfield in non-ppr leagues. What it comes down to is this: if you can get Hill on the cheap, go for it.
Cleveland Browns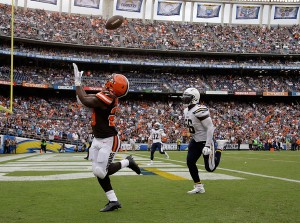 Duke Johnson
With all of the hype (much of it coming from me) surrounding Isaiah Crowell, Johnson is a bargain. The Browns do not have a lot of weapons in their passing attack. Right now the number one spot is a toss up between fragile Corey Coleman and the underrated Kenny Britt. That leaves a lot to be desired on passing downs and that is where Johnson comes in.
Coach Hue Jackson has been hyping Johnson hard this offseason and that can only mean good things. It seems likely that Cleveland will be playing from behind a lot and Johnson should see touches as a result. Combine that with the fact that Kizer will probably be at QB at some point and it is more good news. Johnson is a perfect safety valve for a young quarterback short on receiving options. There will probably not be many touchdowns in the mix, but about 60 receptions seems very plausible.
Pittsburgh Steelers
James Conner
This bruising rookie is set to back up Le'Veon Bell and that generally means not a lot of touches. On the other hand, Bell has a habit of missing games due to injury or suspension. Over the last couple of seasons, the Steelers' second string running back job has been lucrative. Of course Conner is no De'Angelo Williams, but he is a big physical runner.
As long as Bell is healthy, there will probably not be many touches for other backs. On the other hand, Bell has played 16 games in a season one time in his career. It is very unlikely that Conner will have season long value, but there should be a couple of weeks where he is worthy of a flex.
More RB Sleepers By Division:
AFC: