This season the NFC north could be one of the better divisions for sleeper running backs. There are some very talented rushers at the top of the depth charts, but other interesting options as well. Unlike the NFC South, there are not many situations with a clear cut number 2 back. This leaves a lot to interpretation and that could lead to some draft day bargains.
Chicago Bears
Benny Cunningham
Jordan Howard was a revelation in his rookie season and experts are divided over whether he can repeat. It looks like Jeremy Langford has worn out his welcome and rookie Tarik Cohen has impressed at camp. Still the back that I think has the most value from the bench is Benny Cunningham. He has been a proven performer for the Rams for a couple of seasons.
Cunningham is a nice receiver out of the backfield and an underrated rusher. He has had utility for fantasy owners when given a chance in the past. If things should not work out with Howard, Cunningham could be the beneficiary. Even if Howard is great again, Cunningham should see work in the passing game. At worst he is a PPR flex option and at best he could be useful in standard leagues at some point.
Detroit Lions
Zach Zenner
Last season I was a big believer in Dwayne Washington but he failed to perform. Zenner, on the other hand, came up big toward the end of the season and in the playoffs. Abdullah and Riddick are the running backs to own in Detroit, but Abdullah never stays healthy. If he should miss time, Zenner is the back to pick up for sure.
I would not roster Zenner at the beginning of the year outside of extremely deep leagues. He should be a top waiver priority if Abdullah misses time this season. Even if Abdullah is healthy, it would not be surprising to see Zenner come in as the team's goal line back.
Green Bay Packers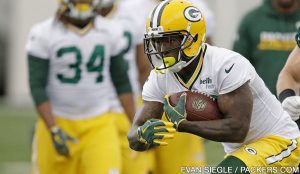 Jamaal Williams
The Packers look ready to roll with Ty Montgomery as their running back, but rumors are flying. Reports have been out there that Williams is pushing for the starting running back job. While I would be shocked if Montgomery lost the starting job, this means that the coaches like what they see from Williams. This is good news for a team that had no luck at the position last season.
If anything, I would use the rumors of Williams overtaking Montgomery to get a deal on Ty. I think that he is going to be a big time performer in 2017. I would not hesitate to grab Williams in the late rounds as well, however. The Packers' running back is a great position because they get to work with Aaron Rodgers. This means that teams do not stack the box very often. Montgomery should put up huge numbers, but if he goes down, I expect Williams to perform as well.
Minnesota Vikings
Jerick McKinnon
There are few more impressive athletes in the NFL than Jerick McKinnon. That has not translated to a lot of success as a running back, but he has a terrible offensive line. This season the impressive rookie Dalvin Cook should get the lion's share of snaps at running back. Latavius Murray is listed second, but I still see McKinnon getting more consistent playing time.
The explosive element brought to the offense by McKinnon cannot be replicated by many players. The Vikings will look for ways to keep him on the field. Perhaps two running back sets or even splitting him out on passing plays. I already wrote that McKinnon should have value in PPR leagues. In standard formats I would take a wait and see approach.
Check back soon for the conclusion of the sleeper running baqcks by division series. The NFC East will round things out for the NFL. That might be a bit more interesting now with the news of Ezekiel Elliott getting suspended for 6 games (pending appeal).
More RB Sleepers By Division: