Sleeper running back picks can be found all over, but it is tough to know which backs to grab. The picks here are presented on a team by team basis and come with my recommendations for drafting. The AFC East is the last division in the AFC to be covered in the sleeper running back by division series, but there are some gems here.
Buffalo Bills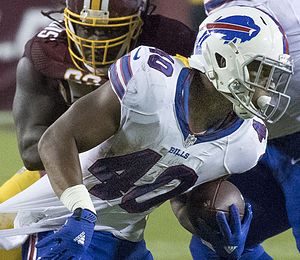 Jonathan Williams
It appears that Williams will have first crack at second string running back in Buffalo. That is a position that has held significant value over the past two seasons. LeSean McCoy has been great as the starter, but he does not handle 30 carries per game. There is a solid chance that his backup is going to pick up 10-15 touches most weeks.
Williams does not have much of a track record in the NFL, but he looks to have a real opportunity. The Bills are very good at running the ball and the coaching staff have expressed their confidence in Williams. I would take a wait and see approach before flexing him, but grab him in 12 team or deeper leagues.
Miami Dolphins
Kenyan Drake
At the moment, Damien Williams is listed as the backup to Jay Ajayi. Do not be fooled by the depth chart because the coaching staff loves Drake. Coach Adam Gase has said that Drake could be a three down back in the NFL. Gase and running back coach Danny Barrett have both praised Drake's running, but also his ability in the passing game.
Having the coaches on your side is one piece of the puzzle, but of course opportunity is a factor. Jay Ajayi is a budding star and there may not be many extra touches. For the moment, Drake will likely be limited to mop up duty. He is one of the more enticing handcuffs in the league, but in 10 or 12 team leagues he has little standalone value.
New England Patriots
Rex Burkhead
The Patriots have some household names, at least among fantasy circles. Dion Lewis and James White have produced some big fantasy games and of course White starred in the Super Bowl. Mike Gillislee is setting up to take the lion's share of the straight up rushing plays, so what is left? For the moment, Burkhead has been taking a lot of short yardage and goal line plays. Just those goal line carries could be a gold mine if that continues into the regular season.
Beyond being used as a goal line back, Burkhead has made a living on catching passes. His unique skill set will certainly be optimized in a Bill Belichick offense. The Patriots and Belichick were one of the only suitors for Burkhead's services, so they clearly have a plan. The bottom line is, Burkhead can be had for next to nothing and is worth a dart throw. I would avoid him in ten teamers, but anything deeper I would absolutely take a flier on Burkhead.
New York Jets
Bilal Powell
This is just on the cusp of being a breakout prediction rather than a sleeper. The reasons that he is listed here are twofold; Forte is a household name to some and the Jets have nobody else worth mentioning. I would actually not be surprised if Powell bested Matt Forte outright in 2017.
Powell is a great pass catcher out of the backfield and still in or close to his physical prime. Forte missing time is almost a given at this point and Powell should see a lot of touches. The Jets have nobody on offense after losing Quincy Enunwa. Right now Powell might be their best running back and their best pass catcher. He had over 1,000 yards combined last season along with 5 touchdowns, but may fantasy football managers are still sleeping on him. If I were going to draft a Jets player it would be Bilal Powell and that is about the extent of it.
That wraps up my sleeper running back picks for the AFC. If you missed any of the divisions look below for links.
More RB Sleepers By Division:
AFC: