As draft season moves along, identifying sleeper running backs and bargains becomes more of a priority. Just about every team has a player worth watching and every team needs to plan for injury. After a complete tour of the AFC, this column is moving on to the NFL starting with the West.
Arizona Cardinals
Kerwynn Williams
Backup to David Johnson is one of the least useful jobs in the NFL. Last season Chris Johnson had some brief utility in that role, but CJ2K is looking used up. Despite being re-signed for a year and listed as the backup, my pick here is Williams. He is a vastly improved pass blocker and that is important when you have an injury prone quarterback. There is also some utility as a receiver out of the backfield.
If David Johnson went down, this would probably be a committee. Despite that, Williams would be the name to remember rather than the known brand of Chris Johnson. This is just watch list material, there is only one Cardinals running back that should be on week 1 rosters.
St. Louis Rams
Free Agent To Be Named
In true Rams fashion, I do not see a back after Gurley on the roster that I would even watch. Lance Dunbar looked like a great sleeper candidate, but he is out indefinitely with a knee injury. The coaches have declared Malcolm Brown as the second string back. For some context, Brown averaged 2.2 yards per carry in limited action last season. If Gurley missed time it would be catastrophic for the Rams.
My suggestion is to watch for a free agent signing. I can only imagine who the inept Rams front office would bring in, but they almost have to make a move. There will be an update at such time as they employ a second running back worthy of note, but for the moment no sleeper running backs here.
Seattle Seahawks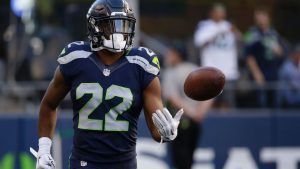 C.J. Prosise
There are several attractive options in the Seattle backfield, but Prosise is my favorite sleeper. At the moment there is a chance that Thomas Rawls passes Eddie Lacy for the lead back role. Whichever way the chips fall in that situation, Prosise should have a defined role. He is an excellent pass catching back and should be a lock for over 50 receptions. That may even be a low number come the end of the season.
Depending on how Lacy and Rawls start out the season, I could see Prosise doing even more. He could carve out a majority share if he looks great right away. This is a guy that should be drafted in all leagues and in PPR he is a no brainer.
San Francisco 49ers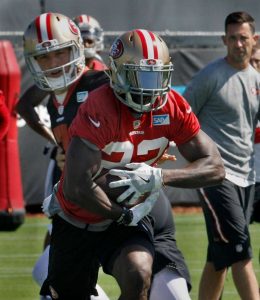 Tim Hightower
Every season it looks like Hightower may have outplayed his usefulness. At the same time, every season he manages to be a useful contributor in fantasy. This year should be no exception as he is set to back up the fragile but talented Carlos Hyde. San Francisco does not have a lot of talent on offense, but Hyde has occasionally been a bright spot. At the same time, the only consistent thing about Hyde's career has been the frequent missed time.
There is a strong possibility that a different back will be starting at some point this season. If I were to wager on it, I would say that back will be Hightower. He is comfortable in Kyle Shanahan's system after playing in it with the Redskins. On top of that, rookie Joe Williams has looked bad at training camp. He is not an exciting option, but Hightower is likely to have some flex worthy weeks at worst. Draft him in the late rounds in 12 team and deeper leagues.
More RB Sleepers By Division:
AFC:
NFC: