Running back has a lot of parity outside of top tier performers. That makes prediction difficult, so running back sleepers abound. Here are my sleeper picks for each AFC West team.
Oakland Raiders
Jalen Richard
The Raiders made a big splash by convincing Marshawn Lynch to come out of retirement. There is a lot of hype around Beast Mode and expectations are high. There is every reason to think that Lynch could do some impressive things this year, but he is 31 years old. He has also been out of football for an entire year.
Rumor has it the Raiders will limit Lynch's carries to around the 195 that Latavius Murray saw last season. That leaves a decent sized workload for DeAndre Washington and Jalen Richard. I am a bigger fan of Richard's skill set even though Washington has gotten more of the hype. As a rookie Richard averaged 5.7 yards per carry. He also showcased great hands out of the backfield. He is going to be worth owning in all league sizes and if Lynch struggles, I think that Richard starts.
Los Angeles Chargers
Andre Williams
We're getting into deeper bench/handcuff territory here. Melvin Gordon is a fantasy darling after proving to be a touchdown machine in his sophomore season. Williams is not going to see the field much as long as Gordon is healthy. If Gordon misses time, however, Williams is a better fit for rushing downs than the other backups. Branden Oliver and Kenneth Farrow do not have what it takes to carry the full load, despite being nice third down backs.
Williams is a bruising back that can grab chunks of yardage on first and second down. It is a bit of a stretch, but if he gets on the field he could impress.
Kansas City Chiefs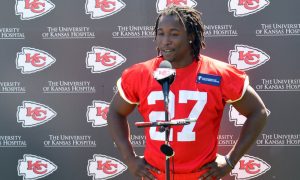 Kareem Hunt
The early rumors about Hunt starting have tailed off, but the Chiefs are high on the rookie. After trading up to draft Hunt, it was clear that Kansas City wanted him to be part of their future. Hunt is a three down prospect with nice hands out of the backfield. It is telling that Hunt was taken in the third round. That is the highest a running back has been taken in the Andy Reid era.
For the moment Spencer Ware is the starter and he appears to be fully healthy. Last season was derailed by injury, leading some to forget that Ware was a hot prospect himself. It is likely that Hunt will do damage early on passing downs. That could translate into more extensive playing time as the season wears on. Hunt should be rostered in leagues of 12 teams and greater.
Denver Broncos
De'Angelo Henderson
The Broncos have been looking for a back to take the reins of their offense since Knowshon Moreno. There is reason for optimism with C.J. Anderson, but he has not locked anything up. The competition for starting running back could go on all season if someone does not pull away early. It seems like Jamaal Charles will get limited playing time and should not be a big factor. DeVontae Booker is injured and that leaves Anderson and Henderson to compete for the top spot.
At this point it looks like Anderson will start the year as the lead back. He will likely be spelled by Charles and Henderson while Coach Joseph decides his rotation. Being a rookie head coach, there is no "book" on Joseph or his tactics in the run game. For my money, Henderson is the back to watch outside C.J. Anderson but he may not be worth drafting except in very deep leagues, but get him on the watch list.
More RB Sleepers By Division:
AFC:
NFC: