Running back sleepers are always a popular topic of speculation. Every year multiple rushers come out of nowhere and spring to fantasy relevance. Predicting those relative unknowns can help vault your team to the top of the rankings. To that end, I give you my sleepers for the AFC South.
Houston Texans
D'Onta Foreman
I hesitate to list Foreman after he was arrested for possession and reporting to camp overweight. On the other hand, he is a skilled runner that will be available almost for free at this point. Lamar Miller cannot carry the load on his own; he is great as a committee member. Alfred Blue is just not exciting, we've seen what he can do.
If Foreman can focus on football and stop the nonsense, he could be a big part of the Texans offense. Considering some of the pieces in place, that could be a lucrative position to be in. To be safe, I would not gamble on him in leagues smaller than 12 teams.
Indianapolis Colts
Marlon Mack
If there is one thing that fantasy owners should know by now, it is don't bet against Frank Gore. At the same time, no player has ever been immune to aging and Gore is no exception. There are going to be some carries to be divvied up in Indy this year and Mack is the safest bet to take them. There were high hopes for Josh Ferguson last year, but he did almost literally nothing.
The only reason for concern is touchdown vulture extraordinaire Robert Turbin. He inexplicably scored 8 times in 2016 (7 on the ground and 1 through the air). My money is on Mack being the most productive back outside of Gore and he has an outside shot at overtaking the ageless one. He is still just a watch for 10 team leagues, but any deeper than that and Mack should be on a team.
Jacksonville Jaguars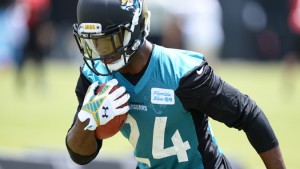 T.J. Yeldon
It is easy to forget about the former second rounder Yeldon. He is about to be overshadowed by a potential generational talent in Leonard Fournette. On the other hand, Yeldon is a very talented back in his own right. He had over 1,000 all-purpose yards last season despite being on a bad offense. This year the coaching staff are talking up his pass protection and that is a sure way to some amount of playing time.
A healthy Fournette will get just about every carry, but Yeldon should see some passing down work. The value here is mostly going to be limited to PPR leagues. In those leagues, there will be some weeks where Yeldon is worthy of a flex spot. Other than that, he is no more than a handcuff.
Tennessee Titans
Khalfani Muhammad
This is one of my deepest pulls and there is a very distinct reason for that. I'm going full Al Davis on this one and grasping at a guy with legitimate sprinter speed. It is hard to come up with a sleeper running back on a team with two star caliber players in the backfield. Muhammad brings a completely different dimension to the field than Murray or Henry. That and kick/punt returns are his route to playing time.
At this point I would not roster Muhammad, but keep an eye on how he is used at the beginning of the season. If he can get some passes out in the flat, Muhammad could quickly earn some real playing time. It is very likely that this is another De'Anthony Thomas situation, but you never know.
More RB Sleepers By Division: